---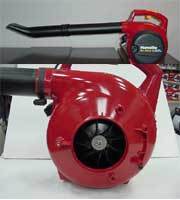 When a problem develops with a product, consumers sometimes discover it before the company's safety engineers.
"I brought to the attention of Homelite that the gas lines on their Vac Attack 11 leaf blower, model ut08544, must be defective," Mike, of Knoxville, Tenn., told ConsumerAffairs.com. "Both lines that run from the carburetor and push bulb lead into the tank. At least one has a filter on it. When the lines deteriorated gas splashed out of the tank and got all over me and the blower. Fortunately there was no fire. I simply wanted the lines replaced with better material and would expect the company to take this situation more serious. I felt they did not!"
Mike was correct in reporting what he saw as a problem to the company. We suggest he also file a report with the Consumer Product Safety Commission. Mike might want to note that some of the Vac Attack blowers have already been recalled for a different problem.
Kind of insulting
We're recounted some of the stories from rental car customers who say the companies have been quick to charge fees for damage to the vehicle, even though the customers swear there was none when they dropped it off. Now Hatti, of Staten Island, N.Y., writes to tell us of a new fee she encountered at Enterprise.
"I noticed an additional $100 on my bill when it came through on American Express, Hattie said. "I called and they said the car smelled so I was charged an extra cleaning fee. THIS WAS NOT TRUE."
We can tell Hattie is not just upset about the fee, but also being accused of stinking up the car. Interestingly, she said she disputed the charge with American Express, which removed it from her bill because Enterprise failed to respond to their inquiries. Now, Hattie says, Enterprise has turned the disallowed charge over to collections.
Watch what you say
Remember that we've told you in the past you can't go by what a company sales person says, you have to see it in writing? That's true, but apparently companies like AT&T can hold you to a "verbal contract," as Angela, of Santee, Calif., recently discovered.
"I was wrongly told I 'verbally' agreed to a an 11 month contract when this never happened," Angela told ConsumerAffairs.com. "I had both Internet and mobile services with them and called to terminate my Internet services back on May 13th of 2011. I requested to speak with a manager because I did not agree with the final billing charges. I felt that since I was terminating half way through the month I did not think I should be charged for the whole month. The manager told me that was their billing policy but she understood my complaint and she informed me she would credit me $34 on my next phone bill. I thanked her and that is all she said, no further explanation, or talks about being in any long term contract with penalty fees."
On Aug 23, when Angela called to terminate her phone she was told there would be a $135 early termination fee.
"I explained I was not under contract with them," Angela said. "She then stated that I verbally agreed to contract with them for 11 months in order to get my $34.00 credit. This conversation never happened. I was never told that by getting this $34.00 credit that I would then be in verbal contract."
Angela should ask to hear the recording of her accepting the terms and agreeing to a contract. It sounds like the customer service rep suckered Angela into taking an action that entered her into a contract. If so, that was pretty sneaky.
---