---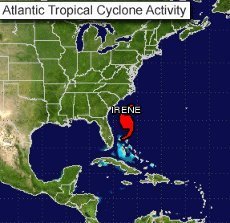 Irene's position Friday morning (NOAA map)
Last week's earthquake on the East Coast may have been a preview of what to expect when Hurricane Irene roars up the East Coast this weekend.
When the ground unexpectedly started shaking from Virginia to Boston, panicked people overloaded cell phone circuits, and even some landlines couldn't handle the crush of calls. As a result, many people turned to Facebook and Twitter to communicate with friends and loved ones.
Jennifer Regina, a Rowan University adjunct professor of marketing and CEO of The Marketing of Everything, Washington Township, N.J., says social media can be an effective tool in a natural disaster.
"The best thing to do is also have an action plan in place for communicating with your loved ones during a natural disaster," Regina said.
She suggests:
Have an agreed-upon plan of communicating. Make sure your family knows if you are going to be tweeting your condition or will be communicating via texting or Facebook.
Make sure you have your communication devices fully charged. Charge your laptop and cell phone to their full capacity every night. Even consider purchasing an extended or backup battery for your devices.
Pay attention to government and news agencies' social media posts. Subscribe to their posts so they will be sent directly to your phone via text. Many state and local agencies are aggressively using their social media profiles to communicate quickly about disasters. Already hurricane evacuation information is spreading quickly through Twitter.
Establish agreed-upon times for your loved ones to post updates. For example, every hour update your health or the status of your location. Social networks also can be used to warn others of impending disasters. Many in New York City saw tweets from their friends in Washington, D.C. about an earthquake and seconds later felt it themselves. Many people stay glued to social networks to see how others are handling storms that are approaching and gleaning valuable tips.
"This weekend's hurricane will be another example of how social media networks will help families communicate and governments issue warnings and updates," Regina said.
---