---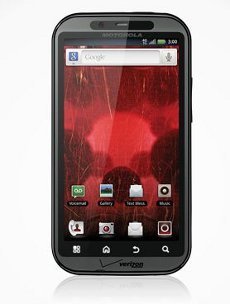 Even before Google bought Motorola Mobility, there was a lot of excitement and buzz around the Droid Bionic, Motorola's latest attempt to get back into the smartphone race.
The release date of the much-anticipated phone has been a question mark, so interest peaked today with a Tweet from "@DroidBionic," saying the device would be released Sept. 8.
But hold on a second. Although the Tweet claims to be the "official Motorola Droid Bionic Twitter page," it's no such thing, both Motorola and Verizon Wireless hastened to assure a Droid-starved public today.
So who is "@DroidBionic"? Things being what they are, it could be just about anybody. Whoever it is can't spell or talk English good, which is what initially tipped off PCMag.com's Sascha Segan, who was -- as far as we can tell anyway -- the first byte-stained wretch to note the discrepancies.
Numerous other publications, including the usually reliable Dealerscope, fell for the phony Tweet.
As for Verizon Wireless, its Web site is still saying the Bionic will be available in September but it's not being any more specific.
Why the buzz?
Why is everyone getting so worked up over yet another smartphone? Well, the Droid, we'll have you know, is the first dual-core 4G LTE smartphone, which should mean it will be the fastest and the most capable of doing somewhat amazing things.
Pre-Bionic, there hasn't been a smartphone that's both dual-processor and capable of running on Verizon's lightning-fast 4G network. Put those two together and the result should be pretty awesome in terms of speed and page-loading (which are sort of the same thing but also sort of not).
Besides that, the Droid Bionic's 960-by-540 screen delivers higher resolution than the other LTE phones available from Verizon. It may also deliver better battery life.
Of course, Samsung and HTC already make some pretty amazing 4G phones and both are no doubt working on dual-processor models. But Motorola, a storied name in radio communications, has been on the sidelines the last year or so and everyone is pretty keyed up to see what wondrous things it may finally have wrought.
Maybe that will happen soon. Or not.
---