---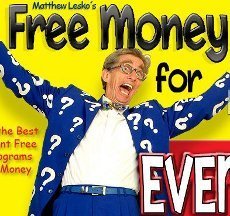 Telemarketers allegedly running a nationwide "government grant scam" have been ordered to stop making their phony pitches.
Attorneys general from North Carolina, the Federal Trade Commission, and the states of Illinois, Kansas and Minnesota have pursued the complex scheme in federal court in Kansas since 2009. Cooper and the other plaintiffs have now won court orders or settlements that resolve the case against fifteen defendants implicated in the scheme.
"Grant scams prey on people's hopes and waste their money," North Carolina Attorney General Roy Cooper said. "We're working to shut down these scams in North Carolina and across the country."
The companies and individuals behind the scam used telemarketing and misleading tactics to convince consumers to pay for services that were supposed to help them win grant money from the government. Consumers who paid for the help never won any grants or received any money.
The Government Grant Scam is a play on the old Sweepstakes Scam. Potential victim is told they are being awarded a federal grant of $6,000 or $7,000, just because they are "a good citizen," or because they pay their taxes on time.
A common ploy
ConsumerAffairs.com constantly hears from people contacted by these scammers, including Janet, of Rogers, Ark.
"All I needed to do was go to the nearest Western Union office, take a valid state ID and $199.00 as a security deposit," Janet told ConsumerAffairs.com. "Then he proceeded to say that I was not to discuss the transaction with anyone at Western Union office or Western Union would charge me $1500.00 for the transaction."
Fortunately, Janet didn't call for the scam, but thousands of people do.
The defendants
In this mutli-state action, the defendants include Real Estate Buyers Financial Network and Martin Nossov of Raleigh, N.C., are prohibited from illegal telemarketing and from making misrepresentations or misleading consumers under a permanent injunction issued by U.S. District Court Judge Julie A. Robinson.
Martin Nossov and his company have also been ordered to pay $5,373,106. Under a settlement agreement, Alicia Nossov ofRaleigh agreed to follow laws that govern telemarketing and fair business practices and will pay $126,894, the amount she allegedly made from the scam.
Defendants Affiliate Strategies, Landmark Publishing Group, Grant Writer's Institute, Answer Customers, and Apex Holdings International, all of Overland Park, Kansas are permanently banned from telemarketing, misrepresenting products and their costs, misleading consumers, and pitching money-making opportunities under a default judgment issued by Judge Robinson. Defendants Brett Blackman, James Rulison and Jordan Sevy of Overland Park, Kansas worked with the companies and agreed to similar bans.
The companies' assets are being liquidated and any proceeds will go to pay consumer refunds and cover the costs of bringing the case.
Judge Robinson also issued a default judgment against defendant Direct Marketing Services of Utah, banning the company from telemarketing, misrepresentation, misleading consumers, and pitching money-making opportunities. The company was ordered to pay $3.4 million.
Defendants Wealth Power Systems and Aria Financial Services of Utah are banned from marketing grant-related products and services, illegal telemarketing, making misrepresentations, and misleading consumers under a settlement agreement. Justin Ely of Utah, who worked with the companies,agreed to a similar ban. The companies will pay $265,000, the total amount of their assets, toward consumer refunds and the costs of the case. If they're found to misrepresent their assets, they will have to pay $3.4 million.
The states and the FTC are trying their case against remaining defendant Meggie Chapman in U.S. District Court in Kansas.
---