---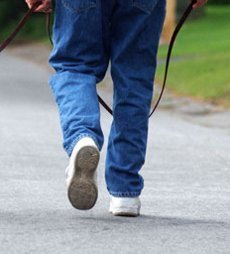 A major annoyance of modern life is reaching for your smartphone, only to discover the battery is low. Two engineers at the University of Wisconsin (UW) have created a solution – technology that recharges the battery while you walk.
Tom Krupenkin and Ashley Taylor call it "in-shoe technology," which they say consists of a shoe insert that generates electricity from the wearer's footsteps.
In a paper appearing this week in the journal Nature Communications, Krupenkin and Taylor describe a new energy-harvesting technology that promises to dramatically reduce our dependence on batteries and instead capture the energy of human motion to power portable electronics.
"Humans, generally speaking, are very powerful energy-producing machines," said Krupenkin, a UW-Madison professor of mechanical engineering. "While sprinting, a person can produce as much as a kilowatt of power."
Foot power
Grabbing even a small fraction of that energy, Krupenkin points out, is enough to power a host of mobile electronic devices — everything from laptop computers to cell phones to flashlights.
"What has been lacking is a mechanical-to-electrical energy conversion technology that would work well for this type of application," he said.
As consumers well know, energy harvesting technologies are aimed at either high-power applications such as wind or solar power, or very low-power applications such as calculators, watches or sensors. There has been no solution for those vital, mid-level power needs.
"What's been missing," said Taylor, "is the power in the watts range. That's the power range needed for portable electronics."
Wearing an energy harvester
How would it work? A consumer would wear a special footwear-embedded energy harvester that captures energy produced by humans during walking, which is normally lost as heat. The shoe devicce would capture that energy and convert it into up to 20 watts of electrical power that can be used to power mobile electronic devices.
Unlike a traditional battery, the energy harvester never needs to be recharged, as the new energy is constantly generated during the normal walking process. And it gets better.
The energy generated by the footwear-embedded harvester can be used to directly power a broad range of devices, from smartphones and laptops to radios, GPS units, night-vision goggles and flashlights. Alternatively, the energy harvester can be integrated with a Wi-Fi hot spot that acts as a "middleman" between mobile devices and a wireless network.
Recharge wirelessly
This allows users to seamlessly utilize the energy generated by the harvester without having to physically connect their mobile devices to the footwear. The researchers says this dramatically reduces power consumption of wireless mobile devices and allows them to operate for much longer time without battery recharge.
"You cut the power requirements of your cellphone dramatically by doing this," saod Krupenkin. "Your cellphone battery will last 10 times longer."
Krupenkin and Taylor are hoping to commercialize the technology through a company they've established, InStep NanoPower. They say they hope to have their "foot power" battery charger perfected and on the market within two years.
---