---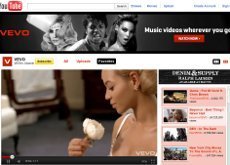 What's new is sometimes old. Remember back in the day, when MTV was a video jukebox, playing lip-synched music videos 24/7?
That might sound pretty ancient to today's YouTube-surfing video crowd, but guess what – more than 40% of YouTube's audience watched music videos in July, according to audience measurement company comScore, which starts publishing data on YouTube channel usage tomorrow.
ComScore found that Vevo accounted for 38% of YouTube's monthly viewers, making easily the most-watched channel. Warner Music was second with 20%.
"Consumers clearly view video as one of the most accessible, interesting and entertaining sources of content on the Web," said Jack Flanagan, executive vice president of comScore Media Metrix. "The trends we're witnessing indicate that online video is emerging from its infancy and entering the mainstream. Many publishers and advertisers are responding to this trend, which means advertising dollars will continue to migrate online where consumers can be targeted with efficiency."
Youtube.com broke into the comScore Media Metrix Top 50 for the first time in July, debuting at number 40 with 16 million visitors, a 20-percent increase versus June.
Video mania also drove a two-fold increase in traffic to MySpace Videos, which had 20 million visitors, trailing only Yahoo! Video with 21.1 million visitors (up 28-percent from June).
ComScore's measurement is expected to help YouTube attract serious advertising dollars so it can compete more vigorously with network and cable broadcasters.
Some of the other top channels on YouTube include:
Demand Media, which publishes how-to information, 15.2 million viewers in July;

Associated Press, news and sports, 6.6 million;

Hearst Television, local TV news, 3.1 million; and

BBC Worldwide, TV news, 2 million.
Political matters
Meanwhile, back at the staid old Wide World Web in July, comScore Media Metrix noted a marked increase in traffic to political Web sites ahead of primary season, as well as the effectiveness of summer sweepstakes from McDonalds, Pepsi, Oprah and Publishers Clearing House that drove online traffic.
The25-percent increase in traffic to political Web sites, the largest-gaining category in July, was particularly noteworthy given the recent major upsets in political primaries in Connecticut, Georgia and Michigan.
CapitolAdvantage.com, a site dedicated to connecting organizations to national and state elected officials, rated among the top sites in the category with 927,000 visitors, a 4-percent increase from June. Political news sites also drove category increases, including independent news site Worldnetdaily.com, which increased 22 percent to 500,000 visitors; Voice of America News (voanews.com), which jumped 50 percent to 368,000 visitors; and NationalReview.com, which rose 11 percent to 350,000 visitors.
"The Internet is becoming an important political forum in this country, especially as video and blogging become more prevalent," said Flanagan. "Politicians recognize the inherent ability of the Internet to connect people and ideas, and it will be interesting to observe activity at political sites as the November elections approach."
---