---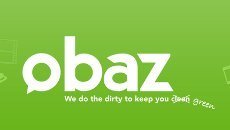 A Chicago-based start-up is hoping to go Groupon one better, by letting consumers put together their own unique deals.
oBaz.com, which formally launches today after several weeks in begta, aims to help individuals get unique deals on products and services they actually want.
oBaz, short for online bazaar, lets anyone create their own group of like-minded buyers looking to get a good price on the same product or service. oBaz hagglers then reach out to merchants with the group sale opportunity to get the best possible deal.
As one oBaz insider explained it to ConsumerAffairs.com: "Instead of being business driven, it will be initiated by the consumer. General buyers forget that Groupon is an advertising model directed by merchants to get new customers in the door. oBaz is the opposite; they allow you to create your own offer on something and the more people you recruit, the better chance the haggler has to get your deal."
The oBaz haggling team leverages the size of the group through negotiations, which users build up with tools for inviting others to the group via Facebook, Twitter and e-mail. The group is then closed to the public after the best offer is posted.
Users are encouraged to join groups for anything they want because only group members are emailed access to the offer. However, group members are under no obligation to buy if they're not happy with the deal.
Outsourced haggling
"Getting deals on what you want is a pain, oBaz eliminates the haggling and shopping-around that most people either dislike or simply don't have time for," said oBaz CEO and co-founder Brian Ficho, who also served as a founder-in-residence at Chicago-based high-tech investment fund Lightbank.
"oBaz is entirely buyer-driven—we're here to help you find what you're looking for, not just push what today's advertiser is offering."
How it works
With oBaz, its founders say, anyone can get awesome deals on almost anything. Step 1 is to visit oBaz.com and tell oBaz what you want. Step 2 is to either join an existing group (if there is one) or create a new group around that item or service.
Step 3 is to build your group—oBaz provides tools and incentives to users to invite friends and grow the group. Each group has 7 days to build to a critical mass (usually around 25 people, but this varies depending on the item).
Once a group is large enough, the oBaz negotiators go to work haggling the group a deal. Once the deal is found, it is posted to the site and users have 24 hours to buy. Deals are redeemed directly on merchants' websites or in-store using promotional codes or printed coupons.
oBaz is ideal for virtually any product or service - businesses can even use the site to procure office equipment, supplies and other services.
Recent group deals on oBaz beta include: $300 off a Nikon camera kit that normally retails for $900; $130 Ray-Ban Wayfarer sunglasses for just $80, $120 off a BOB Stroller; 50 percent off an online GMAT course; a free $45 coin purse when buying a Longchamp Tote; and a lacrosse stick that retails for $105 sold through oBaz for $30.
"The beauty of oBaz is that whatever you're looking for, there's a good chance others might want it too," Ficho said. "We handle the unwanted task of haggling to secure the best possible offer."
By recruiting new members to join their buying groups, oBaz members not only have a better chance of getting a great deal, but they also earn points and status within the oBaz community.
Better for businesses?
For businesses, oBaz drives customers with intent to buy at zero up-front cost. The site issues unique promotional codes or coupons to customers who redeem them in-store or on the business's website. oBaz allows businesses to tailor offers that make sense for them. oBaz also makes it easy for businesses to offload excess inventory and reach new customers in a fun, social, yet private way.
oBaz raised seed funding in June 2011 from Lightbank, the Chicago-based high-tech investment fund created by Eric Lefkofsky and Brad Keywell, co-founders of Groupon. Lightbank invests money, time and expertise to help innovative businesses achieve dynamic growth.
---