---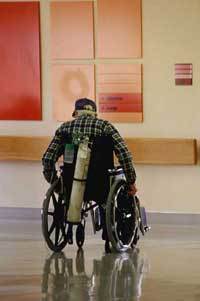 Nursing homes are bracing for an unexpected 11 percent reduction in Medicare reimbursement. The Centers for Medicare and Medicaid Services (CMS) announced the rate reduction late Friday, taking the nursing-home industry by surprise.
CMS said the sharply lower rates will "correct for an unintended spike in payment levels and better align Medicare payments with costs." Nursing home executives say the cuts will make it even more difficult to provide appropriate levels of care.
"From our perspective, this is totally unacceptable," Sun Healthcare Chief Executive William Mathies said, according to The Wall Street Journal.
The government defended the cutbacks.
"CMS is committed to providing high quality care to those in skilled nursing facilities and to pay those facilities properly for that care," said CMS Administrator Donald M. Berwick, M.D. "The adjustments to the payment rates for next year reflect that policy."
Stocks feel faint
Whether the cuts – which CMS prefers to call "adjustments" – negatively affect patient care remains to be seen, but they certainly put nursing home stocks into intensive care.
Sun Healthcare's stock price was off 43% Monday. Skilled Healthcare Group, which had earlier put itself up for sale, withdrew its sales offering after concluding that the company was no longer worth enough to make a sale worthwhile.
Just the beginning
Although it occurred just as Congress was finally reaching agreement on a debt ceiling and deficit reduction plan, the CMS action was not directly tied to that controversy.
However, anyway you look at it, the health care industry is in for huge cutbacks under the deficit reduction plan approved by Congress over the weekend. Under that plan, a bipartisan Congressional committee must find a further $1.5 trillion in savings, beyond an initial $900 billion. If the committee cannot agree on at least $1.2 trillion in savings, automatic cuts kick in starting in 2013. Medicare would face big cuts under this scenario.
The prospect of years of whittling away at Medicare and Medicaid is already causing severe heartburn among seniors and their advocates.
"Over the next few months, policymakers must avoid making hasty decisions that would lead to deep cuts and irreversible changes to Medicare, shifting greater costs to beneficiaries—half of whom earn less than $22,000 per year—and reducing access to care," said Joe Baker, president of the Medicare Rights Center.
"Changes to Medicare and Medicaid must address the root cause of the programs' increasing costs, which is rising costs in the health care sector overall. Only by promoting shared sacrifice can we avoid balancing the budget on the backs of older Americans, people with disabilities and their families," Baker said.
---