---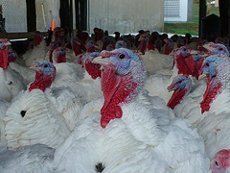 Rep. Rosa L. DeLauro (D-CT), Ranking Member on the Labor, Education, Health, and Human Services Appropriations Subcommittee and a strong food safety advocate, says "I told you so."
As Cargill announced a recall of nealy 36 million pounds of ground turkey Wednesday, DeLauro said it was a reminder that the nation needs to strength, not weaken, its food safety system.
"This massive recall is yet another example of how critical it is to fully fund and support the agencies that are responsible for protecting our food supply," DeLauro said. "It has been over four months since the first illness was identified and yet we just identified the facility and we still do not know definitively where the contamination occurred."
Latest outbreak
The voluntary recall came amid the backdrop of a nationwide Salmonella outbreak that has sickened 78 consumers and killed one person in California. The current investigation centers on a single Cargill Meat Solutions Corporation plant in Springdale, Arkansas and distributed to consumers across the country.
DeLauro said she has consistently pushed for more resources for the Food and Drug Administration (FDA) and other agencies that inspect the food supply.
"But the House majority has slashed funding for the FDA and USDA, choosing to preserve tax cuts for the wealthy over investing in and improving our food safety system," the lawmaker said. "By cutting their funding, we have limited their effectiveness and asked FDA and USDA to do more with less, and the impact of these cuts is starkly clear with this most recent recall."
DeLauro said it is only because of the work of state and local health departments, the USDA, and CDC using creative traceback techniques involving the National Antimicrobial Resistance Monitoring System that regulators were able to identify this outbreak and trace it to a single plant.
"In addition, the simple fact that this outbreak involves a foodborne bacteria resistant to multiple antibiotics heightens the risk to the health of American consumers," she said. "The length of time already passed and the volume of this recall are outrageous, and it has already claimed the life of one American.
---