---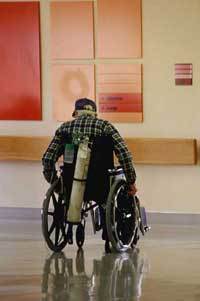 No one likes to think about getting old, although most agree it beats the alternative. But though they don't like to think about it, Americans are, it appears, worrying about the cost of aging.
A new poll from the SCAN Foundation and the UCLA Center for Health Policy Research shows Californians, regardless of political party or income level, were worried about the costs of growing older. Two-thirds of respondents said that they are apprehensive about being able to afford long-term care. Sixty-three percent worry as much about paying for long-term care as they do about paying for their future health care.
The poll, in its second year, tries to get a handle on health and long-term care issues facing middle-aged voters, given the state's current economic crisis and the rising number of Californians older than 60, a figure that is projected to nearly double to 12 million people in the next 25 years.
Hard to save
The poll found that consumers' ability to save for long-term care expenses is hampered by California's weak economy. Nearly half of respondents 40 and older said their household income has declined in the past 12 months, and 50 percent said they had to take money out of savings to meet their expenses.
Four in ten have had to cut down on the amount they spend on food in the past year.
"Californians need affordable options to age with dignity and independence so that they can live how they want in the place they call home," said Dr. Bruce Chernof, president and CEO of The SCAN Foundation. "With so many Californians struggling financially today, it is hard for them to think about the future, yet planning for future needs is an essential component of growing older and necessary for one's personal health, as well as the state's fiscal health, especially given the high cost of long-term care."
Fear of dependence
The poll found that the age-related issues causing respondents the most concern were loss of independence, losing memory or other mental abilities and an overall decline in health.
The costs associated with living with these potentially debilitating health conditions are high, yet Californians underestimate their potential need for support and services.
Sixty-three percent predicted they would need help, but according to the U.S. Department of Health and Human Services, 70 percent of Americans over the age of 65 will need long-term care services at some point in their lives, and more than 40 percent will receive care in a nursing home for even a short period of time.
Among other findings, 66 percent of respondents could not afford more than three months of nursing home care at an average cost of $6,000 per month in California. About four in ten could not afford a single month of care.
---