---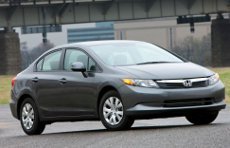 Consumer Reports says it can no longer recommend that consumers buy the Honda Civic, one of the top-selling compacts in the U.S.
The non-profit magazine said the newly-redesigned Civic is "less agile and with lower interior quality" than previous models.
"It also suffers from a choppy ride, long stopping distances, and pronounced road noise," said the magazine, which has recommended the Civic for 20 years and made it a "top pick" in five of the last 10 years.
Instead, the magazine chose the 2011 Hyundai Elantra as its top small-car choice, praising its roomy interior and impressive fuel economy. The Civic finished 11 out of 12 cars rated by Consumer Reports, trailed only by the Volkswagen Jetta.
"While other models like the Hyundai Elantra have gotten better after being redesigned, the Civic has dropped so much that now it ranks near the bottom of its category," said David Champion, who headed the magazine's test center.
Honda disagreed, saying the new Civic "excels in areas that matter to small-car customers, including fuel efficiency, safety, and reliability."
---