---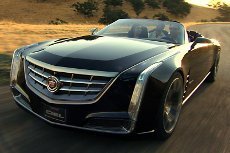 Cadillac Ciel (GM Photo)
For years, Cadillac was the car of choice for those who didn't care what gasoline cost. General Motors (GM) has been trying to erase that image and this week, took another step in that direction with the unveiling of a plug-in electric Cadillac.
The automotive press got its first look at the Cadillac Ciel at Pebble Beach, Calif. The vehicle seats four, has a 3.6-liter V6 engine and a lithium-ion battery. The Ciel is a prototype that will hit the market next year.
GM said it plans to bring out another electric Cadillac in 2013. Development is just underway so details are sketchy, but the car will be called the Cadillac ELR.
The Cadillac ELR will feature an electric propulsion system made up of a T-shaped lithium ion battery, an electric drive unit, and a four-cylinder engine-generator.
It uses electricity as its primary source to drive the car without using gasoline or producing tailpipe emissions, GM said. When the battery's energy is low, the ELR switches to extended-range mode to enable driving for hundreds of additional miles.
"The concept generated instant enthusiasm," said Don Butler, vice president-Cadillac Marketing. "Like other milestone Cadillac models of the past, the ELR will offer something not otherwise present – the combination of electric propulsion with striking design and the fun of luxury coupe driving."
Cadillac selected the name ELR to indicate the car's electric propulsion technology, in keeping with the brand's 3-letter international model naming convention.
GM did not immediately announce price points for the two electric Cadillacs, but it's first electric – the Chevy Volt – debuted with a sticker price in excess of $40,000.
---