---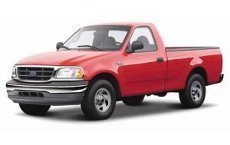 Ford Motor Company is recalling as many as 1.1 million pick-up trucks because metal straps securing the fuel tanks are prone to corrosion and can break.
The National Highway Traffic Safety Administration (NHTSA), which announced the recall, said it involves certain 1997 through 2003 model year Ford F-150, 2004 model year Ford F-150 heritage, 1997 through 1999 model year F-250 less than 8,500 lbs. gross vehicle weight rating (gvwr), and 2002 and 2003 Lincoln Blackwater vehicles manufactured from June 20, 1995, through August 4, 2004.
The affected vehicles were originally sold, or currently registered in, Connecticut, Delaware, Illinois, Indiana, Iowa, Kentucky, Maine, Maryland, Massachusetts, Michigan, Minnesota, Missouri, New Hampshire, New Jersey, New York, Ohio, Pennsylvania, Rhode Island, Vermont, West Virginia, Wisconsin, and the District of Columbia.
Severe corrosion
Prolonged exposure to road deicing chemicals may cause severe corrosion of the fuel tank straps which secure the tank to the vehicle, the agency said.
As a result of the corrosion, one or both straps may fail allowing the fuel lines to separate from the tank, or in some cases, causing the tank to contact the ground. either scenario may result in a fuel leak presenting a fire hazard.
In late April a ConsumerAffairs.com reader, Rebbecca of Lorain, Ohio, said she filed a complaint to NHTSA after she said the fuel tank fell off her 1999 Ford F-150.
Lucky break
"Luckily we were breaking for a red light when it happened," she said. "The entire family was in the vehicle."
In early May NHTSA announced it was investigating those Ford fuel tanks and had expanded its probe to include earlier models.
NHTSA says Ford will notify owners and instruct them to take their vehicles to a dealer to have the fuel tank straps replaced with straps that have increased corrosion protection. Early in this campaign, if replacement straps are not available, dealers may install a cable support under the strap as an interim repair or a steel reinforcement over the existing strap as a permanent repair, the agency said. Any repairs will be performed free of charge.
The safety recall is expected to begin on or about September 12, 2011. Owners may contact Ford Motor Company customer relationship center at 1-866-436-7332.
---