---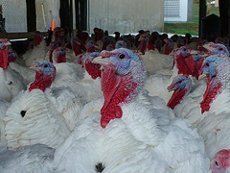 Federal officials have known for months that there was a salmonella contamination problem with Cargill turkey but took no action until an outbreak resulted in at least one death and 77 cases of illness, The Wall Street Journal reported today.
Cargill announced the recall of 36 million pounds of ground turkey from its Springdale, Ark., plant last week, the third-largest meat recall in history.
Now it turns out that the United States Department of Agriculture (USDA) had found a dangerous form of salmonella at the Cargill plant last year and this year found the strain four different times at stores selling the turkey, but did nothing.
"Routine"
Salmonella, USDA officials say, is not treated as a poisonous contaminant, unlike E. coli and other hazards. As long as no more than 49.9% of meat tests positive for salmonella, the situation is regarded as "routine," officials said.
"The government's failure to either alert the public or the company of the problem should be fully reviewed," said Caroline Smith DeWaal, food safety director of the Center for Science in the Public Interest (CSPI). She said the incident "shows a troubling lapse in coordination between federal agencies that are duty bound to protect the public.
"Government officials presented a confusing timeline indicating that they might have had preliminary evidence by late May linking the outbreak strain to test results from turkey products coming out of a Cargill plant in Arkansas," DeWaal said. "The failure to issue a public alert earlier or to even notify the company shows a troubling lack of coordination that potentially contributed to the size and severity of the outbreak."
CSPI petitioned USDA in May to declare certain strains of salmonella "adulterants" under the law, staff attorney Sarah Klein said. That would trigger new testing for the strains and make it less likely that contaminated products reach consumers.
"USDA has a responsibility to move proactively to prevent outbreaks, rather than just responding to them once they occur," Klein said. "Furthermore, the Food and Drug Administration (FDA) could help by stopping the use of antibiotics in healthy farm animals. That would reduce the growth of bacteria resistant to antibiotics used in human medicine.
The strain causing the current outbreak – salmonella Heidelberg – is proving particularly virulent and somewhat resistant to commonly-used antibiotics.
---