---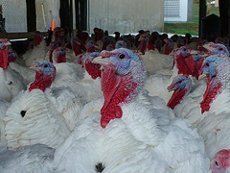 A nationwide Salmonella outbreak has killed one consumer in California and sickened at least 76 others in 26 states, but federal food safety officials have not yet positively identified its source.
However, officials at the Food Safety and Inspection Service (FSIS) believe the source of the contamination could be ground turkey. The agency has issued a public health alert while its investigation continues.
The alert reminds consumers of the critical importance of following package cooking instructions for frozen or fresh ground turkey products and general food safety guidelines when handling and preparing any raw meat or poultry.
In particular, while cooking instructions may give a specific number of minutes of cooking for each side of the patty in order to attain 165 degrees internal temperature, consumers should be aware that actual time may vary depending on the cooking method (broiling, frying, or grilling) and the temperature of the product (chilled versus frozen) so it is important that the final temperature of 165 degrees must be reached for safety. Don't rely on the cooking time for each side of the patty, but to use a food thermometer.

Ground turkey and ground turkey dishes should always be cooked to 165 degrees F internal temperature as measured with a food thermometer; leftovers also should be reheated to 165 degrees F.
Focus on Cargill plant
Though the FSIS has not identified a possible source of the contamination, the New York Times reports Cargill has confirmed that it has been contacted by the Agriculture Department (USDA) and asked to provide information to the investigation. The Times quotes a Cargill spokesman as saying the company is cooperating with the probe.
Meanwhile, the Centers for Disease Control and Prevention (CDC) is partnering with state health departments to monitor the outbreak. The CDC has identified the strain as Salmonella Heidelberg, and confirmed that it is likely caused by eating ground turkey.
Public health investigators are using DNA "fingerprints" of Salmonella bacteria obtained through diagnostic testing with pulsed-field gel electrophoresis, or PFGE, to identify cases of illness that may be part of this outbreak, the agency said.
---