---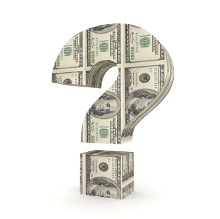 The "R" word has cropped up again this week. While attention was fixed on Washington's last-minute maneuvers over a debt-ceiling deal, a spate of economic data has raised questions about the U.S. economy's strength and the possibility of another recession.
Last Friday the government reported that the economy grew at a much lower than expected rate in the second quarter. On Monday data on June manufacturing was shockingly weak. Today the government reported consumers are spending less than expected.
Dumping stocks
As a result, traders on Wall Street sold stocks and bought bonds and gold, fearing the U.S. is sliding into a double-dip recession. The Dow Jones Industrial Average was off more than 100 points at mid-day and appeared headed for an eighth straight losing session.
Keep in mind that, for most of the year consumers have been spending a dollar a gallon more for gasoline than they did a year ago. That takes a big bite out of household budgets and keeps consumers from spending in other areas. In June, even spending for services was down sharply.
"This part of the economy normally grows solidly and consistently and the failure to do so is a clear sign that people are still extremely cautious," said economist Joel Naroff, of Naroff Economic Advisors, in Holland, Pa. "Of course, to be able to spend a lot of money you need to make a lot of money and income growth is extremely weak. Wage and salary income was actually down in June. As for inflation, the declining gasoline prices led to a drop in costs."
Didn't end for some
A recession is defined as two straight quarters of negative economic growth. The last two quarters have seen growth, but barely. The Gross Domestic Product (GDP) grew a paltry 1.3 percent in the second quarter and a nearly non-existent 0.4 percent in the first quarter. If the GDP were a pulse rate, the patient would likely be on life support.
Officially, the Great Recession ended two years ago, but for millions of Americans, it hasn't ended. Unemployment stubbornly remains above nine percent. Consumers, unsure about their job security and their ability to get a new job, put off spending. All of this has led to speculation that the U.S. is about to take a double-dip.
Jon Lonski, the chief economist at the Moody's ratings agency, is among the economists who thinks we're about to experience another round of negative economic growth. He warns Washington's deficit cutters that cutting spending too much could actually make a recession more likely.
In an article titled "10 Signs of a Double Dip," The Atlantic notes the biggest drag on the economy remains the still floundering real estate market. It notes that "weakness in the real estate market hurts the real estate industry, construction, finance and net wealth."
---