---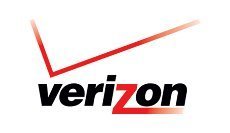 For the first time since 2000, Verizon workers have gone on strike. The Communications Workers of America (CWA) and International Brotherhood of Electrical Workers (IBEW) walked out Sunday afternoon after contract talks broke down.
"Since bargaining began on June 22, Verizon has refused to move from a long list of concession demands," the CWA said in a prepared statement. "As the contract expired, nearly 100 concessionary company proposals remained on the table.
"As a result, CWA and IBEW have decided to take the unprecedented step of striking until Verizon stops its Wisconsin-style tactics and starts bargaining seriously," the statement continued.
The strike affects field technicians and call center workers at Verizon offices from Virginia to New England. It does not affect workers at Verizon Wireless, which is a joint venture of Verizon and Vodafone.
The striking employees work on "land-line" services -- telephone, DSL and FIOS. All but FIOS have been shrinking steadily in the last decade as consumers increasingly turn to wireless phones and cable television.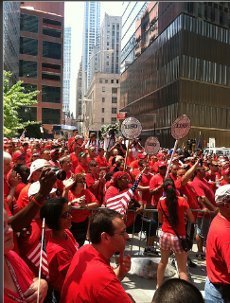 A rally at Verizon headquarters
in New York. (CWA photo)
CWA and IBEW have about half as many members at Verizon today as they did in 2000, due to constant layoffs and job eliminations which Verizon says are necessary to stay competitive.
Deep concessions
Verizon is seeking deep concessions. It wants to freeze pensions, tie pay increases more closely to job performance, make it easier to fire employees for cause and require workers to contribute $100 or more a month toward health-plan premiums. The company also wants to eliminate the Veterans Day and Martin Luther King Jr. Day holidays.
The union says the company's demands are unreasonable.
"Verizon continued to seek to strip away 50 years of collective bargaining gains for middle class workers and their families," the unions said.
"CWA and IBEW members are prepared to return to work when management demonstrates the willingness to begin bargaining seriously for a fair agreement. If not, CWA and IBEW members and allies will continue the fight," the CWA said on its Web site.
Verizon said it has planned for the strike and will be using management and non-union personnel to fill in.
---