---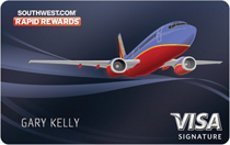 While some consumers complain that they get no respect from their credit card company, credit card companies are doing everything they can to please another group of consumers – those who maintained great credit scores during the economic turmoil of the last two years.
Low interest rates don't always mean much to this group because, in most cases, they don't carry balances on their credit cards. They pay it off each month.
Instead, credit card companies compete with one another to offer the best and most enticing rewards programs, hoping to lure the most credit-worthy consumers with gifts, cash and airline miles. If you happen to fall into this group, you basically have your pick of rewards cards. But which one should you choose?
Card Hub, a site that analyzes credit cards, says the offers have gotten better and the rewards, well, more rewarding. The site has issued a list of what it says are among the best rewards credit cards:
Southwest Airlines Credit Card – Users get 50,000 bonus points (worth over $800 in Wanna Get Away Fares) after your first purchase. But it comes with a $99 annual fee.
Chase Sapphire Preferred Card – Get $625 worth of airfare or hotel accommodations, or $500 cash back when you spend $3,000 during the first three months. There is no annual fee for the first year, but you should expect to pay one after that.
Capital One Venture Rewards – Customers receive $250 in travel expenses when they spend $1,000 in the first three months and the annual fee is waved the first year.
New Ink Cash Business Card – Offers $250 cash back to business owners who spend $5,000 in the first three months. Perhaps the biggest reward, no annual fee.
Chase Freedom Visa – You can earn $200 cash back after spending $500 in the first three months and there is no annual fee.
British Airways Credit Card – Earn 50,000 miles, enough for a free transatlantic flight, if you spend $2,500 in the first 90 days. The card carries a $95 annual fee.
Annual fees
The downside to rewards credit cards is that most of them charge an annual fee. From the credit card company's perspective, if they are catering to customers who pay little or no interest because they don't carry a balance, and the company is handing out rewards, it needs to charge the fee if the account is going to be at all profitable.
If you're a consumer in this sought-after group, perhaps the question you have to ask yourself is, do you really need a rewards card at all? If you routinely put thousands of dollars in charges on your card each month, then the rewards you'll rack up might be worth an annual fee.
However, if you don't use your credit card all that much, a large credit line, flexible terms and no annual fee are probably more important than any enticing rewards.