---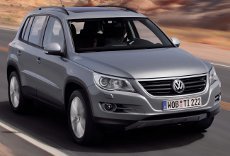 It was just a few weeks ago that Volkswagen and Ford got low marks for initial customer satisfaction from J.D. Power and Associates but a new survey from Strategic Vision Inc. takes a vastly different view.
Based on customers' overall feelings about their cars, Volkswagen was No. 1 and Ford was second, tied with Honda and Nissan.
What explains the disparity?
The Power study measures initial problems with new cars – gadgets that don't work right, early problems with brakes and so forth. Strategic Vision looks at customers' overall feelings about their cars.
Volkswagen customers are an unusually loyal lot and this year they're especially enamored of the Golf, Jetta and Tiguan models. (ConsumerAffairs.com has been putting a Tiguan through its paces in grueling East Coast traffic since December with excellent reviews from everyone who's driven the sporty crossover).
More problems
While Ford owners reported more initial problems with their cars than the industry average, they still rated the cars' quality highly. Ford Mustang, Flex and F-150/250/350 pickup drivers were the most enthused.
"Ford—a quality leader in our study—innovated, and we who count problems discovered that Ford received a large number of complaints primarily about one thing, Sync.—an in-car connectivity system. Does that warrant their 'tumble' in some quality metrics?" Darrel Edwards, Ph.D., Chairman and Founder of Strategic Vision asked.
"Decades ago, we decided to measure 'Quality' from the 'Total' perspective of the driver/owner, because this is how people actually judge 'Quality' in terms of the decision to purchase or not," said Edwards. "The number of complaints is considered, but there is absolutely justification—even requirement—for also considering the total positive experience created for the owner/driver."
Edwards cites the Volkswagen Jetta and Hyundai Sonata—two vehicles that tied for leadership position of Total Quality in the Mid-Size Car Segment. Both vehicles had a higher incidence of owners reporting problems (30%) than the segment average (22%) which isn't a good start to a customer's perception of quality.
Negligible impact
However, the impact of those problems on the customer's perception of quality is negligible because very few customers (only 1 in 20) experience a 'Serious' problem, which is often fixed immediately at the dealership. Then, vehicle attributes from exterior styling to interior room combined with the emotional benefits delivered by the driving and ownership experience to create some of the highest perceptions of delight and love for their vehicle.
Volkswagen of America was rated the best Full-line Corporation in Strategic Vision's study, now in its sixteenth year of gathering data from the total population of new car buyers. VW had three models (Golf, Jetta and Tiguan) that were Total Quality leaders, with attributes of Design and Exterior Styling that particularly impressed owners.
Buyers rated the following vehicles top in their segments: