---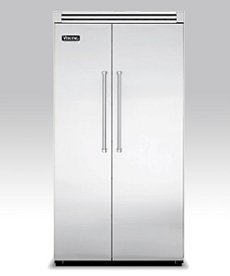 Viking Range Corporation has agreed to pay a civil penalty of $450,000 after admitting that it was aware for years of a defect involving its refrigerator door hinge support mechanisms that resulted in incidents and injuries to consumers but failed to report the defect, as required by federal law.
Viking reported the safety defect to the U.S. Consumer Product Safety Commission (CPSC) in April 2009, and the firm agreed to a recall in June 2009. Subsequent investigation conducted by CPSC staff uncovered that by that time the firm was aware of at least 10 reports of injuries involving Viking refrigerator hinge failures going back over several years.
CPSC and Viking announced a recall of more than 45,000 Viking refrigerators in June 2009. The hazard identified with the refrigerators is that refrigerator hinges and hardware that attach the doors to the refrigerator box can loosen, sag and detach, posing an impact injury hazard to consumers if the door detaches.
Viking sold the refrigerators through appliance and specialty retailers from July 1999 through April 2006.
Federal law requires manufacturers, distributors and retailers to report to CPSC within 24 hours after obtaining information reasonably supporting the conclusion that a product contains a defect which could create a substantial product hazard, creates an unreasonable risk of serious injury or death, or fails to comply with any consumer product safety rule or any other rule, regulation, standard or ban enforced by CPSC.
In agreeing to the settlement, Viking Range Corporation denies CPSC staff allegations as to the existence of a defect or hazard or that it violated the law.