---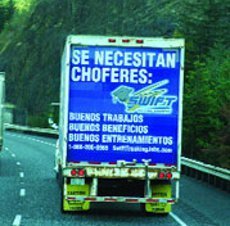 A longtime sore point between the United States and Mexico may have finally been resolved.
U.S. Transportation Secretary Ray LaHood and his Mexican counterpart, Dionisio Arturo Pèrez-Jàcome Friscione, met today in Mexico City to sign agreements resolving the dispute over long-haul, cross-border trucking services between the United States and Mexico.
As part of the agreement, Mexico will soon lift retaliatory tariffs on more than $2 billion in U.S. manufactured goods and agricultural products, providing opportunities to increase U.S. exports to Mexico and expanding job creation in the U.S., LaHood said.
"The agreements signed today are a win for roadway safety and they are a win for trade. By opening the door to long-haul trucking between the United States and Mexico, America's third largest trading partner, we will create jobs and opportunity for our people and support economic development in both nations," LaHood said.
A previous cross-border trucking program, established as part of the North American Free Trade Agreement (NAFTA), was canceled in March 2009 after complaints from U.S. consumer groups concerned with the safety of the Mexican trucks.
Diplomatic flap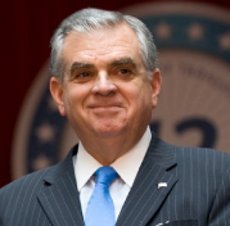 LaHood
The flap put a serious kink in U.S.-Mexican relations and led to the imposition of stiff tariffs by Mexico.
The agreement signed today also provides that Mexico will suspend 50 percent of the retaliatory tariffs within ten days. Mexico will suspend the remainder of the tariffs within five days of the first Mexican trucking company receiving its U.S. operating authority.
As a result, Mexican tariffs that now range from five to 25 percent on an array of U.S. agricultural and industrial products such as apples, certain pork products, and personal care products would be immediately cut in half and will disappear entirely within a few months.
LaHood said the agreement addresses the recommendations of over 2,000 commenters to the proposal issued by the Federal Motor Carrier Safety Administration in April.
As a result of these meetings, and in consultation with Mexico, trucks will be required to comply with all Federal Motor Vehicle Safety Standards and must have electronic monitoring systems to track hours-of-service compliance.
In addition, the U.S. Department of Transportation will review the complete driving record of each driver and require all drug testing samples to be analyzed in Department of Health and Human Services-certified laboratories located in the U.S. The Department will also require drivers to undergo an assessment of their ability to understand the English language and U.S. traffic signs.
The new agreement also ensures that Mexico will provide reciprocal authority for U.S. carriers to engage in cross-border long-haul operations into that country.