---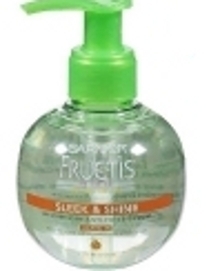 A federal class action claims L'Oreal failed to warn that the two main ingredients in its "leave-in" hair-styling product, Garnier Fructis Sleek & Shine Anti-Frizz Serum, "are flammable upon contact with temperatures reached by most hair styling appliances."
The suit was filed by Catherine Altamura of Los Angeles and Lisa Pearly of New York say they purchased the product believing it was safe but later learned otherwise.
Women who buy "leave-in" hair-styling products typically do so before using a heated hair-styling appliance, Altamura and Pearly said. They point to the Serum packaing which instructs the consumer to use "as much as needed for your hair type" … "do not rinse" … "style using brush and blowdryer."
The women say that L'Oreal went even farther in its misleading advice by including a warning that implied the product was safe to use with styling appliances: "Avoid fire, flame, smoking and heat (except for styling appliances) during application and until hair is completely dry."
The suit notes that Serum's main ingredients are cyclopentasiloxane and dimethiconol, both allegedly known to be flammable substances with a flashpoint of only 171 degrees, while the normal heating range for hair-styling appliances is between 200 and 450 degrees.
"Serum is therefore flammable and is unsafe to bring into contact with heated syling appliances because use of the product with a heated styling appliances puts the consumer at an unreasonable risk of injury from burns to the face, head and neck," the suit charges.
The lawsuit charges that thousands of consumers bought the product believing it to be safe but would not have done so had L'Oreal warned them of its dangers. It seeks damages and injunctive relief.