---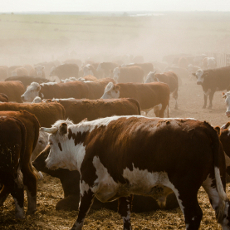 The Environmental Working Group today released its groundbreaking Meat Eater's Guide to Climate Change and Health, a tool that allows both consumers and experts to understand easily how food choices affect both their environmental footprint and their health.
Taking into account every stage of food production, processing, consumption and waste disposal, the guide documents in unprecedented detail how consumers who eat less meat and cheese can significantly reduce the greenhouse gas emissions, pollution and health risks linked to their dietary choices. Previous studies have focused mostly on emissions from the food production phase only.
The calculations reveal that if everyone in the U.S. ate no meat or cheese just one day a week, over a year, the effect on emissions would be the equivalent of taking 7.6 million cars off the road.
The research also highlights the surprisingly large environmental impact of meat that goes into the trash, which accounts for more than 20 percent of all meat-associated emissions.
Limit damage
"By eating and wasting less meat, consumers can help limit the environmental damage caused by the huge amounts of fertilizer, fuel, water, and pesticides, not to mention the toxic manure and wastewater, that goes along with producing meat," said Kari Hamerschlag, EWG senior analyst and author of the report.
"Choosing healthier, pasture-raised meats can also help improve people's health and reduce the environmental damage associated with meat consumption," Hamerschlag said.
The study points to abundant research showing how eating large quantities of beef and processed meats increases exposure to toxins and increases the risk of heart disease, cancer, and obesity.
EWG teamed up with CleanMetrics, an environmental analysis and consulting firm, to calculate complete lifecycle assessments of the "cradle-to-grave" carbon footprint of 20 types of conventionally raised (not organic or grass-fed) meat, fish, dairy and vegetable proteins, counting emissions generated both before and after the food leaves the farm.
These assessments included every step of the food cycle, from the pesticides and fertilizers used to grow animal feed through to the grazing, processing, transportation, cooking and finally, disposal of unused food.
Key findings
Other key findings of the report:
Beef generates more than twice the emissions of pork, nearly four times that of chicken, and more than 13 times that of vegetable proteins such as beans, lentils, and tofu.

Cheese has the third-highest emissions. Less dense cheese (such as cottage) results in fewer greenhouse gases since it takes less milk to produce it.

90 percent of beef's emissions, 69 percent of pork's, 72 percent of salmon's and 68 percent of tuna's are generated in the production phase. Just half of chicken's emissions are generated during production.
"The report also points out that making significant cuts in emissions will not come solely from individual action, but also citizen action," said Ken Cook, EWG's President. "Consumers need to convince Washington to enact comprehensive policies that put the nation on a path to green energy. Reducing meat production's negative impact on soil, air and water quality will also require better policies and regulatory enforcement as well as curbing meat consumption."