---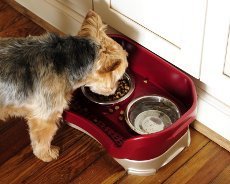 This might not be the biggest annoyance in your life, but if you're a pet owner, you're familiar with the spills, splashes and splatters that accompany mealtime for your dogs and cats.
A new product, the Neater Feeder, aims to put a stop to the wet floors and stained walls that irk pet owners.
The key is the Neater Feeder's two-container system with protective walls and a colander-like filtering system, which separates spilled food from spilled water. Spilled food is contained in the upper reservoir so it can be safely eaten or easily discarded. Spilled water drains into the lower reservoir, and can be reused for your pet, your plants, or the planet, or neatly discarded without ever touching your floors.
Neater Feeder says its design is also ant-proof, keeping your dog or cat's dining area more sanitary. The Neater Feeder for dogs also provides all of the health benefits of an elevated feeder, the company says.
A new standard
"The Neater Feeder sets a new standard in pet feeding because it takes the mess out of meal times," said Fernando Becattini, Jr., President of Neater Pet Brands. "By dramatically reducing the spilled food and water that reaches the floor around your pet's food and water bowls, the Neater Feeder creates a more sanitary dining environment than your current dog bowl or cat dish, and a cleaner home for you."
"Spilled food is preserved, and spilled water is filtered for reuse or easy disposal. The spill-proof and kick-proof design will keep you from worrying about water-stained wood, splattered baseboards, warped tiles or sloppy floors around your pet's bowls ever again," Becattini said.
Neater Feeder says its contoured design is comfortable for cats and dogs of any size. The small Neater Feeder is appropriately sized for all cats and dogs up to 35 pounds, and the large Neater Feeder is designed for breeds 35 to 100-plus pounds. Optional leg extensions increase feeding height for an elevated feeding position that is shown to be beneficial for dogs' digestion and joint health.
The Neater Feeder is made in the U.S. by Neater Pet Brands, from recyclable polypropylene plastic, and is easily cleaned and dishwasher safe. For more information, visit Neater Feeder's web site at www.NeaterFeeder.com.
ConsumerAffairs.com has not tested this product and has not received any consideration from the company. The company's site clearly states the prices and shipping costs for different models, supplies complete contact information and otherwise appears straightforward.
If you decide to try this product, please let us know how it works for you by filing a consumer review.