---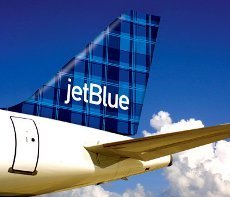 Perhaps feeling blue about reduced business travel during the summer months, JetBlue is introducing a three-month unlimited travel plan for passengers flying out of Boston Logan and Long Beach, Calif., airports.
Beginning today and lasting through August 31, travelers can buy one of three BluePass plans that will be good for travel between Aug. 22 and Nov. 22, 2011.
The packages – Boston All, Boston Select and Long Beach Select – offer various "flavors" priced from $1,299 to $1,999 and intended to appeal to frequent business travelers.
"JetBlue is pleased to offer this valuable, flexible and convenient unlimited pass to meet the high-frequency travel needs of a variety of customers, no matter what their business plans entail," said Dennis Corrigan, vice president of sales and revenue management for JetBlue. "We are the largest carrier in both Boston and Long Beach, and we have built a solid network of key destinations and high frequencies in these markets."
All travel bookings must be made online by visiting www.jetblue.com/bluepass. BluePass flights will be available for booking starting Aug. 15, 2011. BluePass options include the:
Long Beach Select ($1299) for travel between LGB and nine intra-West markets, including:Austin, Texas; Chicago, Ill.; Las Vegas, Nev.; Oakland, Sacramento or San Francisco, Calif.;Portland, Ore.; Salt Lake City, Utah; and Seattle, Wash.

Boston Select ($1499) to 13 select Northeast markets served by JetBlue from Logan, including: Baltimore, Md.; Bermuda; Buffalo, N.Y.; Chicago, Ill.; Jacksonville, Fla.; New York/John F. Kennedy; Newark, N.J.; Pittsburgh, Pa.; Charlotte or Raleigh/Durham, N.C.; Richmond, Va.;Washington, D.C. (Dulles or Ronald Reagan National).

Boston All ($1999) for travel to/from BOS to 32 cities served nonstop on JetBlue, as well as 22 additional destinations via connecting service at New York's John F. Kennedy, Orlando International or Fort Lauderdale/Hollywood International airports.
Customers must be a registered TrueBlue member to take advantage of the pass. Each BluePass purchased is also eligible for TrueBlue points from the airline's customer loyalty program, including 12,000 points for the Boston All; 9,000 points for the Boston Select; and 8,500 points for the Long Beach Select.
All BluePass holders will have access to every available seat on every flight with no blackout dates, and can book travel up to 90 minutes prior to departure. Changes or cancellations to previous BluePass reservations can be made without penalty, and business customers can enjoy complimentary confirmed same-day changes on the day of booked departures.
The airline has also introduced a relaxed no-show policy for the BluePass, initiating a $100 charge only when the customer no-shows for a scheduled flight twice in a seven-day period.
---