---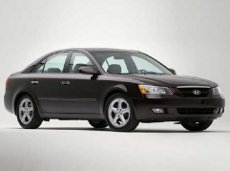 People like their Hyundais. The Korean auto brand has claimed the top spot in Kelley Blue Book's (KBB) second quarter consumer brand loyalty survey.
Honda was in second place while Toyota fell to third. It marks the first time since KKB started tracking this data that Hyundai has held the No. 1 spot for an entire quarter.
In Play
The researchers at KKB say auto loyalty has been up for grabs in the last couple of years. Toyota's well-publicized recalls may have had something to do with it. But the fact that gasoline prices have risen sharply has given companies that excel in fuel efficient cars an edge too.
While many of the auto industry's top players have found themselves struggling to retain customers, KKB says Hyundai has "blazed a new trail and preserved its loyal consumer base." The driving factors behind this retention have been aggressive marketing campaigns combined with innovative product redesigns like the highly successful 2011 Sonata and 2011 Elantra.
For second quarter of 2011, Hyundai's brand loyalty was at 52.3 percent, with Honda following at 49.7 percent and Toyota sliding in third at 47.7 percent. Rounding out the top five are Ford in the fourth spot at 45.4 percent, and Subaru in fifth at 44.8 percent.
Korean brands do well
In a time when most brands are losing loyalty, KKB said it is notable that fellow Korean automaker Kia also is bucking the trend. Kia is one of only two brands that are up in brand loyalty year-over-year, with the other being Mini. Both Kia and Mini are succeeding in loyalty for reasons similar to Hyundai, with a combined result of attractive redesigns and additional models within their respective lineups, as well as aggressive marketing campaigns, KKB said.
"Hyundai's product renaissance is benefitting the company not just by attracting an all-new customer base, but by helping them to retain current loyal Hyundai owners, as well," said Arthur Henry, market intelligence manager for Kelley Blue Book. "This latest brand loyalty analysis from KKB.com is a testament to the power of attractive vehicle designs and intriguing marketing in the minds of in-market car shoppers as they consider their next vehicle."
Several luxury brands, which have eroded in loyalty over the past few years, have now risen in loyalty for the second quarter. April and May of this year saw some positive economic signals, such as a sharp drop in gas prices, and as a result, Kelley Blue Book Market Intelligence sees prior luxury owners shifting back to the luxury brands they enjoyed when the economy was booming. This is a positive sign for luxury brands such as Mercedes-Benz, Audi and BMW, all of which saw quarter-over-quarter increases for Q2 2011 versus Q1 2011, yet all remain down year-over-year.