---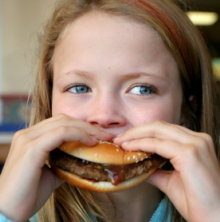 In April the U.S. government presented the food industry with a set of voluntary guidelines designed to reduce childhood obesity. The message in the guidelines was clear: don't use clever marketing to sell junk food to kids.
If adopted, the new guidelines would change how many food items like cereal, sodas, snacks and fast food meals are advertised. They could also radically change many companies' advertising budgets, a prospect that has not gone unnoticed on Madison Avenue.
Opposition
AdWeek Magazine reports that advertising agencies are openly cheering for an amendment to a House Appropriations Bill that could render the new guidelines toothless. The amendment, offered by Rep. Jo Ann Emerson (R-Mo.), would freeze funds for the implementation of the guidelines unless and until the Food and Drug Administration (FDA) and Centers for Disease Control and Prevention (CDC) conduct a cost-benefit analysis. There is no money budgeted for such a study.
The measure is destined for a floor vote later this year and is expected to pass. A lot of people in the ad industry are pulling for it.
"We think the provision will get strong support, but we'll just have to see," Dan Jaffe, executive vice president of government relations for the Association of National Advertisers, told AdWeek.
Both advertisers and food manufacturers have been fighting the proposed new guidelines since they were announced. Even though the guidelines are voluntary, advertisers understand that they invite direct oversight if they don't follow them.
Long-sought controls
Food industry critics, meanwhile, have long called for tighter controls on the way food is marketed to children. They say advertising messages often directly contradict sound nutritional advice.
"Children are strongly influenced by the foods they see advertised on television and elsewhere. Creating a food marketing environment that supports, rather than undermines, the efforts of parents to encourage healthy eating among children will have a significant impact on reducing the nation's childhood obesity epidemic," said Health and Human Services Secretary Kathleen Sebelius."These new principles will help food and beverage companies use their creativity and resources to strengthen parents' efforts to encourage their children to make healthy choices."
The guidelines are the product of a working group comprised of four federal agencies – the Federal Trade Commission (FTC), FDA, CDC, and the U.S. Department of Agriculture (USDA). The guidelines were published for public comment in late April.
Assuming the House passes the appropriations measure, the Democrat-controlled Senate could take out the language, meaning it would be up to a House-Senate Conference Committee to reconcile the two versions.