---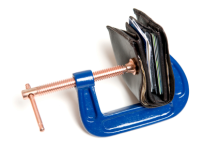 In the months immediately following the 2008 credit crisis, consumers for the most part drastically reduced their use of credit cards. Now, they're reaching again for their plastic.
The Federal Reserve reports consumer credit rose in May for an eighth straight month, mostly because of – you guessed it – credit card use.
According to the Fed's data, credit rose by $5.08 billion after a revised $5.67 billion gain in April. The increase was more than $1 higher than the consensus projection.
Buying necessities
It's not that consumers are using their credit cards to buy big screen TVs and go on expensive vacations. Since many consumers use their credit cards for gasoline purchases, and gasoline costs have risen in the last year, it stands to reason that gasoline is responsible for a part of the rise in consumer credit.
Other economists suggest that consumers are also turning to plastic to buy groceries and pay for other day-to-day needs. Revolving debt, which includes credit cards, rose by $3.37 in May after decreasing $877 million in April, according to the central bank's data. It was the first gain this year and the biggest since June 2008.
In addition to revolving debt like credit cards, non-revolving debt rose $1.71 billion in May after jumping $6.54 billion in April. Non-revolving debt includes things like auto financing and auto loans.
Other debt
Non-revolving debt is usually set up for a uniform, long-term payback period and as a rule, is less troublesome for consumers than credit card debt, which carries much higher interest rates and often, added fees.
To keep credit card debt under control, the Center for Responsible Lending says consumers should always pay more than the minimum amount due on the monthly bill.
Paying more than the minimum can save you as much as $2 for every extra $1 you pay, the group advises. For example, before the CARD Act, paying $100 extra could save you $164 in interest charges, but now that same payment amount can save you $224.