---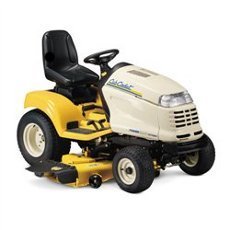 Kris, of Walton, Ore., says she considered her 2008 purchase of a Cub Cadet tractor mower as an investment. She says it's turned out to be a bad one.
"In 2008, after 23 hours of mowing, it was into the shop for five weeks at the most critical mowing time," Kris said. "The muffler came loose and melted the lift-up hood. The PTO blades would not engage and the repair cost ws more than $300."
And that was just the first year. After another 20 hours of mowing in 2009, she said there was another $300 in repairs. Last year, more repairs, including a cracked engine block that Cub Cadet agreed to replace, even though the machine was out of warranty.
"I will never have the money to purchase a replacement mower," Kris said. "Guess I'll get a goat."
When a gift card isn't enough
Michelle, of New York City, went shopping for her 12 year old grandson's birthday and settled on a Nook e-reader from Barnes And Noble. She asked the clerk how she could put money on the reader for her grandson to pay for downloads.
"I was told just buy a Nook gift card and he could do it himself," Michelle told ConsumerAffairs.com.
But it didn't work out that way. Michelle got a call from her grandson, who said he couldn't use the gift card without also having a credit card.
"They advertise this as a great gift for children, but they don't tell you that you have to turn over your credit card to a kid," Michelle said.
Privileged information
Stephanie, of Lockport, N.Y., wants to know how State Farm Insurance arrives at her premium amount. She's had coverage for decades and recently noticed a change in her Customer Rating Index.
"I called my local agent for an explanation and she hemmed an hawed before telling me I would have to call the headquarters for an explanation," Stephanie said. "I called the main office of my policy, Ballston Spa, NY, and spoke with several representatives and supervisors. I was flatly told they will not tell me the formula used to calculate my insurance premium, that it is private."
Stephanie's point is this: when her premium goes up, how does she know whether it's a rate hike or is based in information about her – information that may not be correct. She would simply like some transparency. It doesn't seem all that unreasonable.
An iphone with legs?
This economy has a way of putting priorities in perspective. Lynae, of La Jara, Colo., had two iPhones but was having trouble feeding her children, so she returned the phones to AT&T for a refund.
"I tracked the two phones to the warehouse," Lynae told ConsumerAffairs.com. I received one refund but not the other. I faxed them information showing them that the warehouse received both iPhones but they say they never received it. They will not refund me my money that I paid for the iPhone."
It's not clear how the AT&T warehouse could say they did not receive the second iPhone if Lynae has documentation of delivery. But if both phones were shipped in the same box, the delivery confirmation might only note that a box was received, not what it contained. It sounds like the second iPhone could have grown legs and wandered home with someone.