---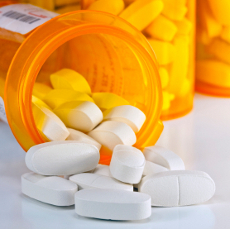 Americans would not only save money, but might be in better health if they didn't take so many prescription drugs. That's the conclusion of researchers at the University of Illinois at Chicago College of Pharmacy.
Their study appears in the online edition of the Archives of Internal Medicine as part of the journal's "Less is More" series.
Several studies over the past decade have concluded that the use of many new and frequently-prescribed medications was either harmful or not beneficial to patients, says Bruce Lambert, co-author of the paper and professor of pharmacy administration.
Using the prior research as a guide, 24 principles were developed that can help prescribers avoid excessive and harmful prescribing, said Lambert, who is director of UIC's Center for Education and Research on Therapeutics.
Radical, but conservative
"None of these principles are particularly novel, nor should they be terribly controversial," he said. "But taken together they represent a radical shift in the way clinicians think about and prescribe drugs."
Ironically, the radical shift is known as "conservative prescribing," and if adopted by every prescriber, could save many lives and dollars, Lambert said.
Dr. Gordon Schiff, co-author of the report, says physicians need to move away from the mindset that leads them to heavily prescribe the "latest and greatest" new drugs, to "fewer and more time tested is best."
24 principles
The report identified 24 principles of conservative prescribing, including the consideration of non-drug therapies such as diet, exercise or physical therapy. The report says doctors should look for and treat underlying causes rather than just masking symptoms with drugs; emphasize prevention rather than treatment.
Physicians are also urged to avoid frequent drug switching and be vigilant for side effects when a patient begins a new drug therapy.
Americans spend more than $307 billion on medication in 2010, according to the consulting firm IMS Health. The most-prescribed drugs are those that lower cholesterol and fight depression.