---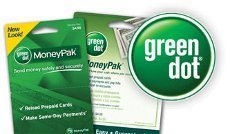 Scam artists have discovered the Green Dot MoneyPak.
MoneyPaks, sold in stores throughout the U.S., are reloadable debit cards normally used to make same-day payments or add money to prepaid cards or PayPal accounts.
But in recent weeks, the Better Business Bureau (BBB) says it has noticed a significant increase in schemes where scammers either tried to solicit – or were able to collect – payments via MoneyPak for merchandise, advance fee loans or sweepstakes prizes that all proved to be fraudulent or nonexistent.
"[M]ore and more scammers are moving away from seeking payments via wire transfer and instead asking consumers to give them money via MoneyPaks," said Dana Badgerow, president and CEO of the BBB. "We feel this is likely due to the fact this form of payment is quite convenient – for both consumers and scammers – and untraceable.
The BBB and the Minnesota Department of Public Safety (DPS(, which has also reported seeing the increase, say any website requesting payment via a MoneyPak is likely a scam. They also say people should be very cautious when using MoneyPaks to pay companies or individuals they don't know, and want people to understand that once they load a MoneyPak with funds, anyone they share the number of that card with will also have access to those funds.
Bill White, a DPS agent, says fraudsters will convince consumers to put money into their MoneyPak card, get them to share its serial number, and then the scammers empty the card of funds, leaving consumers empty-handed.
"These scammers are smart and are extremely effective at gaining trust of their victims and convincing them they've won a prize," says White. "The base rule to avoid being scammed is to understand that legitimate lotteries do not require you to pay fees upon winning. In this specific case, never give a MoneyPak serial number to anyone you don't know."
In the last two weeks alone, the BBB and DPS have received reports from consumers who:
Were asked to pay advance fees on bogus loans with MoneyPaks.

Were told they had won cash prizes of hundreds of thousands of dollars, but would first have to provide payment via MoneyPaks to claim their winnings.

Purchased heavily discounted home exercise equipment they found advertised on a fraudulent website, but after paying hundreds of dollars for it with a MoneyPak discovered the merchandise was nonexistent.
To avoid falling for MoneyPak scams, consumers should:
Be wary of websites or Craigslist advertisements linking to websites where customers are asked to pay with a MoneyPak card.

Never give their MoneyPak number to someone they don't know.

Keep in mind advance fee loan offers are not legitimate and are targeted at customers and companies who are struggling with debt and poor credit, often making bad situations worse.

Remember that if you're told you have pay to a fee – via MoneyPak or wire transfer - to collect a cash prize or sweepstakes winnings, you haven't won anything.

Avoid offers that do not accept credit card payments and ask you to purchase a MoneyPak and then provide the MoneyPak number in an email or over the phone.

Beware of websites requesting MoneyPak as a form of payment even if they display the MoneyPak or Green Dot logo. Consumers should check www.moneypak.com for a list of approved MoneyPak partners.

Treat their MoneyPak cards like cash. Remember that transactions cannot be reversed.
On their website, Green Dot says MoneyPaks should only be used to reload prepaid cards or accounts you control. They also advise people who are using MoneyPak with PayPal for eBay or other online merchants to transfer money to their PayPal account before paying the merchant; people should not email the MoneyPak Number directly to the merchant. Green Dot also states they are not responsible for the quality or non-receipt of any goods or services.
Thanks
Keep an eye on your inbox, the lastest consumer news is on it's way!
Unsubscribe easily whenever you want