---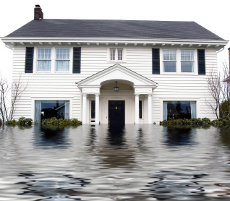 The news from the home front continues to be sobering. More than 22 percent of all U.S. homes with mortgages are "underwater," according to new data from CoreLogic, a provider of business data.
That's a slight improvement from the fourth quarter of last year, when 23 percent of U.S. homes were in a negative equity situation. However, there was an increase of about 2.4 million homeowners whose equity was five percent or less. That's considered "near negative equity" because they are in danger of going underwater should home values continue their decline.
Nevada still leads
Not surprisingly, Nevada had the highest percentage of negative equity homeowners in the first quarter, with 63 percent of the mortgaged homes in the state owing more than the homes' value. Nevada, especially the Las Vegas market, has been one of the hardest hit areas in the nation in terms of foreclosures.
According to the data from CoreLogic, 50 percent of the mortgages homes in Arizona were underwater. Forty-six percent of Florida homes have negative equity, followed by Michigan at 36 percent and California at 31 percent.
Drilling down to specific metro areas, CoreLogic found Las Vegas to be the most underwater city with 66 percent negative equity, followed by Stockton, Calif., with 55 percent and Reno, Nev., at 54 percent.
Average negative equity of $65,000
According to the data, the average negative equity home was underwater by $65,000, although upside down homeowners in New York were an average $129,000 in the hole.
Economists worry that the extremely large negative equity numbers will make it hard for the housing market to recover because it fosters foreclosures. In addition to people who lose their incomes and can no longer afford their mortgages, homeowners in a negative equity situation are often tempted to default, even though they can afford to keep making the payments.
CoreLogic chief economist Mark Fleming says being underwater on a mortgage makes a homeowner much less willing to fight to save their home when they lose their job.