---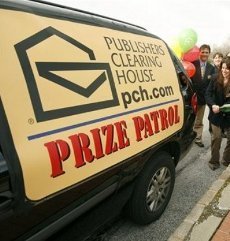 The phony sweepstakes scam is one of the older schemes designed to separate consumers from their money.
The premise is very basic. The victim is told they have won a sweepstakes and usually are sent an immediate check for several thousand dollars as a partial payment. They are then told they need to send a similar amount back to cover taxes or fees in order for the full amount to be sent.
Of course, the check they deposit in their account in counterfeit, but it's such a good forgery the local bank branch usually doesn't catch it until days later. By then, the victim has wired cash to the scammer. There is almost no way to get it back.
Impersonation
Some consumers writing to ConsumerAffairs.com in recent years have claimed they were scammed in a Publishers Clearing House sweepstakes.
"Just wanted to say that Publishers Clearing House said I was a winner, to send my information in and of course I did, but I had to pay $501 for delivery," Jennifer, of Philadelphia, told ConsumerAffairs.com.
But Jennifer was not dealing with Publishers Clearing House, it turns out.
"In the last couple of years, we have seen a huge increase in the number of scams that are using our Publishers Clearing House name, either alone or in combination with other well known brands, like Readers Digest and Oprah Winfrey," Christopher Irving, Assistant V.P. For Consumer and Legal Affairs at Publishers Clearing House, told ConsumerAffairs.com.
Irving said scammers look for anything to make themselves appear legitimate. While some of the early fake sweepstakes scams used obscure, made-up names, Irving says today's scammers grab onto a name that consumers instantly recognize, and therefore trust.
Publishers Clearing House, which markets household and entertainment products, operates one of the better known sweepstakes in the U.S. Who hasn't seen the TV commercial of the Prize Patrol showing up at an unsuspecting winner's home and handing over a check?
Increasingly sophisticated scams
Irving says today's scammers go to great lengths to make it appear they are part of Publishers Clearing House. Not only do they misappropriate the company's logo, Irving says they have been known to use the names of actual employees in their communications with victims, and have even mimicked the company's voice mail tree, so that consumers who call in response to a mailing are lulled into thinking they are dealing with Publishers Clearing House.
How is the company defending itself? Irving says it's working to educate consumers and trying to help authorities with enforcement. For example, when the company receives a copy of one of the fake sweepstakes letters that lists a toll-free number, it moves immediately to get the number shut down.
Irving also says all complaints are forwarded to the Federal Trade Commission (FTC) for inclusion in a federal database on scams. A section on the Publishers Clearing House website warns consumers about the various scams.
Spotting a scam
How can consumers protect themselves from the fake Publishers Clearing House Scams? Irving says there is one, very simple way.
"If, at any point, someone claiming to be from the Publishers Clearing House sweepstakes asks you to send in money, then you know it is a scam," Irving said. "Our winners are never asked to pay anything."
It should also be pointed out that you cannot win any sweepstakes unless you enter.
"Some people assume that they were automatically entered somehow, but it doesn't work that way," Irving said.
Publishers Clearing House winners enter the contests either online, or by filling out and returning a direct mail entry form," Irving said.
Legitimate winners
How are sweepstakes participants informed that they have won a prize? For smaller prizes, those under $10,000, the recipient gets a certified letter with specific details for claiming their prize, none of which involves paying a fee.
"If you win a big prize, one over $10,000, you'll know when the prize patrol shows up at your door," Irving said. "That's not staged, that's exactly how we inform our big winners."