---

Wireless providers have begun rolling out their 4G services, but if you're confused as to what exactly 4G means, you aren't alone. And now a California Congresswoman has introduced legislation she says would provide a little clarity.
Rep. Anna Eshoo (D-CA) has introduced the Next Generation Wireless Disclosure Act to give consumers more information about 4G network coverage, reliability, speed and price. She offered the legislation, she says, because consumers often experience vastly different speeds depending on the wireless provider and location.
She says her bill tries to ensure that consumers have complete and accurate information about the speed of 4G service before committing to a plan.
What exactly are consumers buying?
"Consumers deserve to know exactly what they're getting for their money when they sign-up for a 4G data plan," Eshoo said. "The wireless industry has invested billions to improve service coverage, reliability and data speeds, and consumers demand for 4G is expected to explode. But consumers need to know the truth about the speeds they're actually getting. My legislation is simple – it will establish guidelines for understanding what 4G speed really is, and ensure that consumers have all the information they need to make an informed decision."
Eshoo said there are six main areas where consumers need specific information about 4G services. Her bill would provide consumers with the following information at the point of sale and in all billing materials:
Guaranteed minimum data speed
Network reliability
Coverage area maps
Pricing
Technology used to provide 4G service
Network conditions that can impact the speed of applications and services used on the network.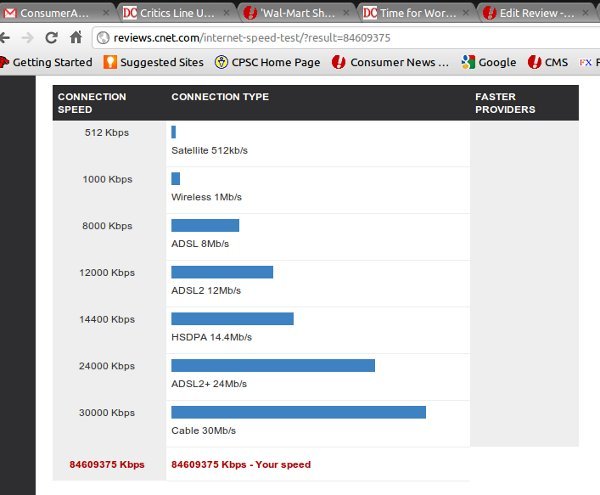 A ConsumerAffairs.com speed test of a Verizon 4g data card in Los Angeles
FCC evaluations
The legislation would also require the Federal Communications Commission (FCC) to evaluate the speed and price of 4G wireless data service provided by the top ten U.S. wireless carriers in order to provide consumers with access to a side-by-side comparison in their service area.
"Consumers want faster, more reliable wireless data service, and I look forward to working with industry and consumer groups to achieve this goal," Eshoo said. "We need to enhance transparency and ensure consumers are fully informed before they commit to a long-term service contract."
The measure has been referred to the House Energy and Commerce Committee, where the challenge will be to bring it to the floor for a vote.
Eshoo's track record in pushing consumer-oriented technology legislation is pretty good. She was the author of the recently signed law requiring the audio of television commercials to be at the same volume as programs.
Thanks
Keep an eye on your inbox, the lastest consumer news is on it's way!
Unsubscribe easily whenever you want