---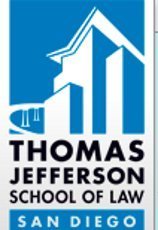 In a class action lawsuit, graduates of the Thomas Jefferson School of Law in San Diego claim that "for more than 15 years, TJSL has churned out law school graduates, many of whom have little or no hope of working as attorneys at any point in their careers," and they say the school lures in new meat by misrepresenting the employment and salary records of its graduates.
The private law school, founded in 1995, was accredited in 2001 and enrolls about 680 students annually. Tuition is currently $38,700 annually.
In the suit, Anna Alaburda claims that the average Jefferson graduate is carrying student debt of $135,000 and that Jefferson graduates' bar passage rate is "consistently" below 50 percent, which she says is well below the average in California.
Alaburda alleges that to continue attracting students despite these dismal statistics, the school misrepresents its graduates employment statistics, claiming that its graduates enjoy an employment rate that typically exceed 70 percent, while concealing that these figures include part-time and non-law employment.
Working as waiters
A TJSL graduate would be considered employed if he worked as a waiter or convenience store clerk, she said.
"Prospective students are led to believe that they will be hired as full-time attorneys when they graduate, even though that is frequently not the case," the suit alleges.
Alaburda speaks from experience. She graduated from TJSL with honors in 2008, having incurred more than $150,000 in debt from student loans but has been unable to find lucrative work as an attorney.
"Law schools are cranking out graduates at an unprecedented rate," awarding more than 43,000 law degrees last year, up 11 percent from the previous decade, the suit notes.
Law schools inflate statistics and present misleading figures to U.S. News & World Report, whose annual ranking of law schools is used by many students as they review the schools available to them, the suit argues. It alleges that, for example, the dean of Villanova Law School recently admitted that the school "knowingly reported" false information to the American Bar Association.
Enron standards
The suit quotes one law school dean as saying "Enron-type accounting standards have become the norm."
Alaburda graduated from New York University, one of the top undergraduate schools in the nation, in 2002 and, after reviewing U.S. News & World Report's law school rankings, applied to TJSL, relying on the school's claim that 80 percent of its graduates were employed nine months after graduation.
She graduated from TJSL with honors and passed the bar exam on her first attempt but has never been employed as a full-time attorney. She said she has had to seek "contract work" reviewing documents and working on a project-by-project basis for law firms.
In the suit, Alaburda said she has been told by many law firms that they do not hire TJSL graduates and that the school's reputation in the legal industry is well below average.
The suit, filed in San Diego Superior Court, seeks class action status on behalf of all TJSL graduates. It accuses the school of unfair business practices, fraud, false advertising and negligent misrepresentation. It seeks damages of $50 million.
Final indignity
Well, you might be saying to yourself, at least Ms. Alaburda got something from her expensive law school education -- she was able to file her own lawsuit.
Wrong.
The suit was filed on behalf of Alaburda and her classmates by Brian Procel of the Los Angeles firm Miller Barondess LLP.