---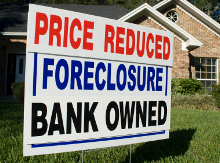 Homeowners who have watched the nation's banks get bailed out over the last two and a half years are now getting their turn.
The U.S. Department of Housing and Urban Development (HUD) has announced the Emergency Homeowners' Loan Program (EHLP), to help homeowners who are at risk of foreclosure. The program is being offered in 27 states and Puerto Rico.
Under EHLP program guidelines eligible homeowners can qualify for an interest free loan which pays a portion of their monthly mortgage for up to two years, or up to $50,000, whichever comes first.
"Working with our community partners across the nation through NeighborWorks America, we are pleased to launch this program today in 27 states and Puerto Rico to help families keep their homes while looking for work or recovering from illness," said HUD Secretary Shaun Donovan.
Part of financial reform legislation
The $1 billion was approved last year as part of the Dodd-Frank Wall Street Reform and Consumer Protection Act. The program will assist homeowners who have experienced a reduction in income and are at risk of foreclosure due to involuntary unemployment, underemployment, due to economic conditions or a medical condition.
The EHLP program will pay a portion of an approved applicant's monthly mortgage, including missed mortgage payments or past due charges including principal, interest, taxes, insurances, and attorney fees. EHLP is expected to aid up to 30,000 distressed borrowers, with an average loan of approximately $35,000.
The program follows in the footsteps on the Making Homes Affordable Program (HAMP), which encouraged loan servicers to modify mortgages of struggling homeowners. That program, in the two years is has operated, has been deemed less than successful, with many homeowners saying there were worse off after starting a modification and then being denied.
The EHLP program will be offered in the following states: Alaska, Arkansas, Colorado, Hawaii, Iowa, Kansas, Louisiana, Maine, Massachusetts, Minnesota, Missouri, Montana, Nebraska, New Hampshire, New Mexico, New York, North Dakota, Oklahoma, South Dakota, Texas, Utah, Vermont, Virginia, Washington, West Virginia, Wisconsin, and Wyoming and Puerto Rico. Five states operating substantially similar programs are administering EHLP directly: Connecticut, Delaware, Idaho, Maryland, and Pennsylvania. With today's launch, mortgage assistance is now available for unemployed and underemployed homeowners in every state.
How to apply
Contact information for participating agencies, the Pre-Applicant Screening Worksheet and more information on the EHLP program and its eligibility requirements can be found online or by calling toll free at 855-FIND-EHLP (346-3345).
Homeowners should be vigilant against scammers who will likely take advantage of the program by pretending to be affiliated with it. Homeowners must apply for the assistance. The participating agencies will not call you.
If a telemarketer calls and says he or she represents the program and can help you get assistance, in return for an advance fee, rest assured that it will be a scam.