---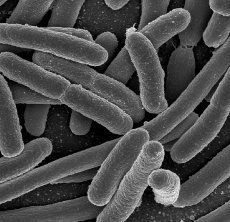 That super E. coli bug that has hit Europe may have turned up in three patients in the U.S. In all three cases, the victims had just returned from a visit to Germany.
The previously rare form of E. coli bacteria has made hundreds extremely ill throughout Europe and 18 people have reportedly died from it. It's origin so far is unknown. Early reports from Germany that it had been traced to Spanish vegetables turned out to be incorrect.
Officially, the bacteria is known as Enterohaemorrhagic E. coli (EHEC) and the results have been severe. Victims have suffered what is called haemolytic uraemic syndrome (HUS), which can be deadly. It can cause serious liver damage in its victims and so far, more than 500 people in Europe have been infected.
Little is known about the possible U.S. victims. The Centers for Disease Control (CDC) told the French news agency AFP that it is still waiting for blood samples.
In Europe, cases have been identified in Germany, Sweden, Austria, Denmark, France, Netherlands, Norway, Spain, Switzerland and the United Kingdom. Officials call the bacteria "highly infectious and toxic."
Scientists say they aren't completely sure what they are dealing with. Chinese scientists say the strain of E. coli bacteria hasn't been seen before. However, officials at the CDC say the strain has appeared before, but is extremely rare.
While the source of the sickness is unknown, suspicion has focused on raw vegetables. Russian has imposed a ban in imports of vegetables from the European Union.