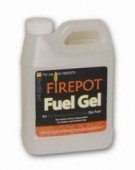 Firepots that burn a gel fuel come in all kinds of decorator shapes and colors and have become popular additions to patios. They are sold at a wide assortment of retailers, including Walmart.
But Illinois Attorney General Lisa Madigan is warning consumers to immediately stop using the fuel gels that come with firepots, saying they can cause severe burns.
Madigan is reacting to recent media reports that have revealed severe and even life-threatening burns and injuries suffered by people using the scented fuel gels, which are poured into firepots for use as outdoor candles. She says reports show consumers were injured when they added more fuel into the pot in an attempt to light or re-light the firepot, causing the product to explode into a fireball.
Safety review
One manufacturer, Napa Home & Garden Inc., already has pulled its products from Bed Bath & Beyond stores nationwide as it reviews product labeling for safety, and the federal Consumer Product Safety Commission (CPSC) has opened an investigation into fire gels.
In a statement Tuesday, the CPSC said its staff had initiated a probe into serious burn incidents apparently related to gel fuel used in firepots.
"While CPSC's investigation is still open and active, consumers should be aware of the burn and poisoning hazards that can occur from using illuminating fuels in firepots, tiki torches, and other consumer products," the agency said in a statement.
The danger, apparently, comes when consumers attempt to add fuel to a firepot that is already lit.
"Adding fuel to an open-flame is a potentially hazardous activity, with a risk of burns and uncontrolled fires," the CPSC said.
Multiple dangers
Most gel fuels are sold in special child-resistant packaging because they generally consist of petroleum distillates, a specific class of hydrocarbon chemicals. This class of chemicals is particularly hazardous if ingested or breathed into the lungs. Safety officials are now focusing on its volatile nature as well.
"Fuel gels can be extremely dangerous, and yet most people are unaware of the burn risks they pose," Madigan said.
Madigan said consumers shojuld stop using fuel gels while the CPSC investigates. Madigan also called on business owners to pull all fuel gels from shelves and for consumers to report firepots or fuel gels they see on store shelves to her office.