---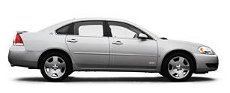 A federal class action claims General Motors' 2007-8 Chevrolet Impalas have defective rear spindle rods that cause wheel misalignment and premature tire wear, and though GM issued a recall bulletin for Impalas that "operated as police vehicles," it won't honor warranties for identical cars owned by customers who don't happen to be police.
In the suit, filed in U.S. District Court in Detroit, Donna M. Trusky of Blakely, Pa., says that the fact that GM moved to fix some of the vehicles indicates that it knew of the defect, yet continued to either recall or repair affected models that weren't used as police cars.
Many Impala owners have found that they have had to replace their tires within the first 10,000 miles of use.
Trusky says that she bought a new Impala in February 2008 and found that within 6,000 miles of travel, the Goodyear tires that came with the car were unserviceable because the tread had worn away.
Trusky took her car back to the dealer, Allen Hornbeck Chevrolet. The dealer paid Kost Tire to replace the tires and realign the rear wheel but made no mention of any defect in the rear spindle rods.
Less than two years later, on November 30, 2010, Trusky's car – then with 24,240 on the odometer, failed to pass its annual inspection because her rear tires were worn. She paid $289.77 for a set of replacement rear tires.
Trusky notes in her suit that when she bought her car, she was given a written "Bumper-to-Bumper" warranty, which included tires, for the first three years or 36,000 miles but the company still refused to make any concessions to her or, presumably, other Impala owners.
The suit quotes numerous online complaints from other Impala owners with similar problems.