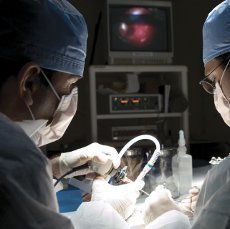 A successful battle against cancer not only exerts a terrible physical toll, but a financial one too. A new study suggests the longer the survival, the higher the rate of insolvency.
"Patients diagnosed with cancer may face significant financial stress due to income loss and out-of-pocket costs associated with their treatment," said Dr. Scott Ramsey, a health care economist and internist at Fred Hutchinson Cancer Research Center in Seattle, who led the study. "On average, bankruptcy rates increased fourfold within five years of diagnosis."
The analysis was conducted by linking federal bankruptcy court records to cancer registry data from nearly 232,000 adult cancer cases in western Washington during a 14-year period.
Twice as high
The study found that compared to the general population, bankruptcy rates were nearly twice as high among cancer patients one year after diagnosis, and that the median time to bankruptcy was two and a half years after diagnosis.
"The risk of bankruptcy for cancer patients is not well known, and previous studies have relied on individual self-reports about medically related reasons for bankruptcy filing," said Ramsey, a member of the Hutchinson Center's Public Health Sciences Division. "By linking two irrefutable government records of cancer and bankruptcy, we are able to determine how financial insolvency risk varies by cancer type, treatment and other factors."
Nearly half of bankruptcies medical related
In some respects, the findings are not that surprising. In 2005, about half of the bankruptcy filings in the United States were due to medical expenses, according to Health Affairs Journal. Cancer is one of the most costly diseases to treat.
Ramsey and his team measured the rate of bankruptcy after a first cancer diagnosis and identified factors that increased bankruptcy risk among people with common cancers. They found that bankruptcy risk varies widely across cancer types.
The risk is highest for lung, thyroid and leukemia/lymphoma cancer patients. In contrast, patients over 65, who are typically on Medicare, have a much lower risk of bankruptcy than younger patients. The researchers also found that bankruptcy rates among cancer patients have increased significantly since the U.S. financial crisis.