---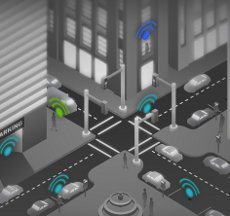 The idea of charging highway tolls based on traffic has been around for awhile but how about an app that matches the price of a parking spot to how many drivers are competing for it?
That's the idea behind Streetline, a start-up firm that yesterday raised $15 million from investors including a venture firm co-founded by Ford Motor Co. chairman Bill Ford.
"Streetline's pioneering real-time smart parking technology will be instrumental in improving personal mobility across the globe," Ford said.
Streetline, based in parking-deprived San Francisco, says it will use the $15 million to expand its "suite of sensor-enabled mobile and web-based smart city and smart parking solutions," which it says are "revolutionizing how cities reduce congestion and emissions by tackling a key, but often overlooked source: drivers searching for parking."
Experts estimate that 30 percent of urban traffic is caused by motorists looking for parking, the company says. Additionally, vehicle emissions resulting from drivers looking for parking are so closely linked that a year-long study found that drivers in a 15 block district in Los Angeles drove in excess of 950,000 miles, produced 730 tons of carbon dioxide and used 47,000 gallons of gas searching for parking.
Wireless sensors
Streetline's "smart parking platform" promises to detect the presence of a car through a network of ultra-low power wireless sensors located in individual parking spaces. By downloading the free app dubbed "Parker" onto a smartphone or compatible tablet, consumers can access real-time parking availability – with icons noting more than four spaces available (plenty of parking), more than two spaces available (some parking), or less than two spaces available (limited parking).
The app also delivers information about parking space time limits, pricing, whether meters take credit cards or coins, and space capacity for select off-street parking facilities including structures and lots.
Besides San Francisco, the company is deploying its sensors in other California cities and in Maryland, New York, Texas, Utah, and Washington D.C.
To download the free Parker app, visit the Android Market or the iTunes Store.
Yes, that's right -- the app is free. Not the parking, though. Although Parker promises to help you find a space, it also promises its municipal customers that it will help them sell their available parking spaces for the best possible (i.e., highest) price.