---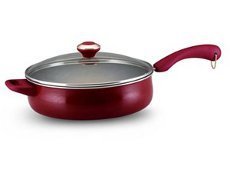 On Mothers Day Karen, of Hebron, Ky., was delighted to receive two Paula Deen copper-bottom two-quart sauce pans as a gift.
"I decided to warm a can of green beans in one of the saucepans," Karen told ConsumerAffairs.com. "When the green beans were hot, I went to remove the pan from the stove burner and the copper bottom disintegrated into molten metal and flew all over the stove, kitchen counter, floor and floor mat. I also was struck by a piece of the metal and suffered a burn on my right hand when lifting the pan."
As a result, Karen says she is having to replace, at her expense, the entire kitchen counter top as well as the kitchen floor and the stove's drip pan and burner in her rented condo. She should try to return the pan because copper-bottom pans aren't supposed to melt. It sounds like a manufacturing defect. And, oh by the way, just because a celebrity slaps her name on a product doesn't necessarily mean it's of high quality.
Another flaming TV
We've had a few reports lately of flat screen TVs catching fire. Here's another one.
"I have had my 42" Vizio LCD flat screen for about three years," said Kellie, of Stockton, Utah. "Monday May 9, 2011 we were watching TV when all of a sudden there was a loud pop and the screen went black. We unplugged the TV and plugged it back in turned it on and it started shooting flames out the back."
Kellie said she's just glad someone was home when it happened. We've had similar reports of Polaroid and Phlilps TVs catching fire. Seems to us the Consumer Product Safety Commission ought to be looking into this.
Getting the message
With most cell phone plans you pay for individual text messages that are sent and received, so getting unsolicited texts isn't just annoying, it can also be expensive. Amy, of San Francisco, says she is getting unwanted text messages from MediaSolutions.com, despite having asked them to stop.
"Just today they texted me eight times after asking them to stop," Amy said. "I have a limited number of text messages that I can use each month and they are taking away texts that I use. I get charged extra when I go over."
If she hasn't already, Amy should complain to her cellphone provider. Verizon, for example, recently sued a company it said was defrauding its customers be sending spam texts. She should also contact California Attorney General Kamala Harris' office.
Disappearing money
It's always distressing to hear from consumers who think they have been scammed, especially if their life savings is at stake.
"On april 10, 2008 I invested my personal money into Genesis Onnovation," Terry, of San Francisco, told ConsumerAffairs.com. "I took a $25,000.00 cashiers check and handed over to the manager of the company."
Terry had a financial setback recently and wrote a letter asking for his money back. He said he got no response and is now worried.
Unfortunately, he should be. According to news reports, the owner and manager of Genesis Innovations was arrested in Sacramento, Calif., last fall and charged with running a Ponzi scheme. Terry should immediately contact the Sacramento district attorney's office to find out the status of the investigation. In fact, the office may want Terry's testimony. As the Bernie Madoff case has shown, there may be assets that can be recovered, so all may not be lost.