---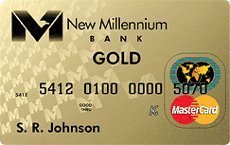 In theory, a secured credit card should be ideal for a person with limited credit. The consumer deposits several hundred dollars into an account that is used to secure the credit line. The bank has no risk because the consumer is borrowing their own money. Unfortunately, these arrangements hardly ever work out to the consumer's benefit.
"I opened up a $300.00 New Millennium credit card with my own money, paid off the balance and contacted them to see when I would receive my initial deposit," Genna, of Phoenix, Ariz., told ConsumerAffairs.com. "I was told that they had closed my account back in October on their own accord."
Genna said she has no idea why New Millennium Bank closed her account or why she's not getting her $300 back. She should certainly demand some answers. Our guess is that along the way, the bank assessed a number of hefty fees that eventually added up to $300. That, in a nutshell, is the problem with most of these secured credit cards.
It's interesting to note that, according to USA Tolday, last year the Federal Deposit Insurance Corporation forced New Millennium to suspend its credit card activities because of its consumer disclosure and compliance program. If Genna doesn't get satisfactory answers, we suggest she lodge a complaint with FDIC.
Slight disconnect
Jennifer, of Bishop, Calif., was a happy Alltel customer required to switch over to AT&T last year. She says she and her family were very unhappy with AT&T, especially since she asked for, but did not receive, a replacement phone for her daughter. So, she switched to Verizon Wireless.
"On December 24th, after making the switch, FedEx shows up at my door with my daughter's new phone from AT&T," Jennifer said. "Mind you, I had left them and taken my numbers with me, so they knew I was gone. I returned that phone and all other equipment that belonged to them as I no longer needed it. I have now received a collections statement due to Alltel stating that I owe them $530, and three months of billing from AT&T.
We're assuming that Jennifer went through the process of canceling her AT&T account. If so, there should be a record. It's not enough, however, to simply open an account with another carrier and move numbers.
A year is actually 10 months
Travel sites don't allow many cancellations, but nearly all make an allowance for a medical emergency. Azalia, of New York, says just such an emergency prevented her from using airline tickets she purchased through CheapTickets.
"I provided two documents from two different doctors stating I was not able to fly," Azalia told ConsumerAffairs.com. "I was told I could not receive a refund, however, I had a year to use the credit."
Now, two months shy of what she thought was the deadline, she learns the credit is no longer valid. What happened?
"I was informed the credit deadline is based on the time of booking, not travel date."
Azalia thinks the policy is unfair, and we agree that it seems a bit arbitrary. But it underscores the need to carefully read terms and conditions with things like this, especially with a company that has the word "cheap" in its name.
Disposable lawnmowers?
Lawnmowing season is in full swing, but D., of Walnut Grove, N.C., is watching his grass grow these days.
"My John Deere L120 has less than 300 hours on it and has been serviced regularly, D. said. "Every time I mow it throws off the drive belt. I first thought it was the PTO so I quit going in reverse at all...now it ONLY goes in reverse."
D. took the mower to a repair shop and was told it was leaking transmission fluid. Not an easy fix, as it turns out.
"James River Equipment, where I purchased the mower, informed me today the transmission is a 'sealed, non-repairable' part costing $750, not including labor," he said.
D. says he can't justify spending that on a repair and will simply buy a new one. He's not alone in experiencing these kinds of problems.