---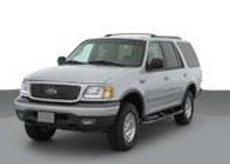 A few year ago ConsumerAffairs.com routinely heard from Ford truck owners about their vehicles spitting spark plugs out the exhaust pipe. We don't get as many complaints now, but we still get them
"My 2002 Ford Expedition has had three blown spark plugs in five months," Jeff, of Mobile, Ala., told ConsumerAffairs.com. "The cost to repair exceeded $2,000, not to mention lost time and inconvenience. The last two times I reported it to Ford and heard nothing in return."
In 2007 ConsumerAffairs.com heard from a reader who said he was a Ford dealer technician.
"I would like to address the Ford spark plug blowout issue," the technician wrote as he was working on a Ford vehicle that had blown a spark plug out of its aluminum head. "I would like the customers to know that it is Ford's defective engine design and not the fault of the technicians or dealerships," said the technician, who asked that his name and hometown not be used for fear that he would be fired if his identity was made public.
The technician said the 5.4-liter engines are particularly susceptible to the problem.
Unintentional world traveler
There can be many pitfalls to using online travel sites to book hotels. For example, you have to pay close attention to what country the hotel is in. Debra, an attorney in Richmond, Va., said she was booking hotel rooms for herself and her investigator in Massena, N.Y., where she had a case.
"I saw a hotel at Hotels.com, but did not know it was in Canada," Debra told ConsumerAffairs.com. "I only found that out after I booked the hotel. My investigator did not have a passport, thus we could not use that hotel. I canceled the reservation within minutes and they sent me a confirmation number. Imagine my surprise when Hotels.com charged my credit card $896.40, and got very ugly when I asked them to remove it from my credit card charge. To date, they refuse to issue me a credit."
Debra may have a valid point. While the hotel probably had an address with the listing, it might not be too much to ask for a Web site to alert a consumer they are about to book a room in another country.
Fed up
"I purchased a Maytag Neptune front load washer and have had to replace the drain pump numerous times and now have to replace it again," Trish, of Chester, N.H., told ConsumerAffairs.com. "This pump retails for $200.00 + at retail stores. I am sick of paying for new pumps and will never purchase another Maytag product again."
We hear from a lot of consumers frustrated by constant problems with their washing machines. Our advise is to save all the service records and submit a claim under a state or federal lemon law. If companies have to start replacing out of warranty products, maybe that will be incentive to step up the quality a bit.
Your baby can read, but you can't cancel
Kimlan, of Brooklyn, N.Y., reports a frustrating experience trying to cancel her order of Your Baby Can Read. After receiving the product on March 23, she said she called to cancel.
"They informed me that they will give me a 30 day extension for free," Kimlan said. "Then I called on April 7, 2011 to cancel again but they told me that they will give me another 30 day extension. I called on May 15, 2011 to cancel but the representative told me there was no information under my name."
Canceling became a moot point the next day, Kimlan said, when the company called and said her credit card had been declined, and could she please supply another one. For future reference, whenever you are trying to cancel a subscription and the company offers you another 30 days free, always decline. By accepting the free extension, you are wiping out your cancellation.