---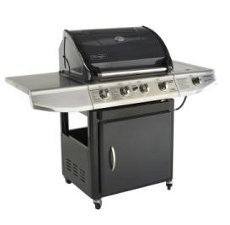 Summer's nearly here and consumers are cleaning off their grills for a new season of barbecuing. Some are in for an unpleasant surprise.
"I bought a Charmglow from Home Depot two years ago and spent over $500 for it,Tara, of Coventry, R.I., told ConsumerAffairs.com. "I thought I was buying a quality product and chose to buy stainless steel to prevent rusting. I went to start up the grill and found out it was completely rusted out! There is absolutely no reason for this to have happened. I take very good care of the product and thought it would last us a long time."
Tara is not the first consumer to lodge such a complaint about rust. In 2005 the parent company, Nexgrill, recalled Charmglow grills because of a design flaw that allowed the gas hose to overheat.
Losing control
Some owners of mid-2000 Chevy Malibus have begun to report problems with the power steering in their cars. Michael, of Bellville, Mich., is one of them.
"I have a 2004 Chevy Malibu Maxx with 105k miles and it is experiencing steering problems," Michael said. "It is the same locking up issues as countless other Malibu owners have complained against. While driving for no reason it locks up at any speed, and almost crashes the car!"
Michael says his dealer won't touch it and his wife won't drive it. He wants to know why there hasn't been a recall. We can't answer that, but it does sound like something the National Highway Traffic Safety Administration should be looking into, if it isn't already.
A suspicious request
Traci, of East Orange, N.J., is concerned that an identity thief may have intercepted her communication with Equifax.
"I went to the FreeCreditReport.com site to get my report," Traci told ConsumerAffairs.com. "On May 14, 2011 I received a letter from Equifax requesting that I send in proof of address, with photocopies of any of the following 2 pieces of info: Social Security number, W-2, utility bill, driver's license, pay stub or lease. No fax, but they want this info sent to a P.O. box. I have great security concerns with this method and believe this could be a form of identity theft."
This does, in fact, seem strange and Traci is correct in being suspicious. However, she has another, better alternative that using Equfax's FreeCreditReport.com site, which requires enrolled in a credit monitoring service. Instead, she can go to www.annualcreditreport.com once each year and get a free credit report from each of the three credit reporting agencies.
Unlimited, but...
You can access the Internet all you want with your smartphone and with most carriers, there's no overage fee. But if you have a plan that connects your computer using your cell phone – usually marketed as "mobile broadband" - there are limits on how much bandwidth you can use in a billing cycle.
"I recently ordered T-Mobile's Web Connect 2.0 stick for mobile broadband," Migna, of North Bergen, N.J., said. I was told that I get 5GB in the plan with unlimited use and that there is no overage fee. The problem is that when I go over the 5GB my Internet access becomes extremely slow and I am not able to listen to music or do anything on the Internet without an excruciating headache."
Migna thinks she was deceived about the limitations of the plan but, when we checked the T-Mobile website, it clearly states that "after 5GB, data speeds may be reduced." Migna's options are to ride out her two year contract by carefully limiting her data use, or paying the early termination fee and going to another provider. Verizon Wireless, for example, provides a 5B data package but charges extra when you go over. However, Verizon charges $20 a month for the service while T-Mobile charges nearly $50.