---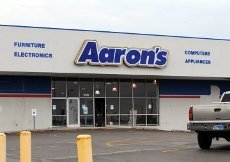 One of the nation's largest rental chains spies on customers by equipping rent-to-own computers with secret software that remotely snaps their photos, takes screen shots, tracks keystrokes, and snoops on private communications, a class action claims in Federal Court.
Aaron's Rent To Own, the lead defendant, has more than 1,500 outlets in the United States and Canada.
In the suit, filed in Pittsburgh Federal Court, Crystal and Brian Byrd of Casper, Wyoming, charge that computers rented by Aaron's are loaded with software called "PC Rental Agent," manufactured by DesignerWare, LLC.
The software enables Aaron's to spy on its customers, the complaint alleges, in violation of the Electronic Communications Privacy Act and the Computer Fraud Abuse Act.
The suit says that DesignerWare designed and assembled the computers containing the spy software and sold them to Aaron's.
The alleged spying began as early as 2007 and enables Aaron's and its agents to capture screen images, keystrokes and images from computers rented and sold to the firm's customers.
The PC Rental Agent device is soldered onto the computer's motherboard and cannot be detected, accessed or controlled by the computer user, the suit charges, saying it can only be deactivated by a special wand which is not provided to consumers.
In the suit, Crystal Byrd says she rented a Dell Inspiron laptop computer on a rent-to-own agreement from Aaron's in July 2010. She paid off the lease in October 2010.
But, according to the suit, the manager of the Aaron's store in Casper, Christopher Mendoza, mistakenly claimed the Byrds were in default on their lease and demanded the compujter be returned.
Mendoza showed Brian Byrd a photo of Byrd using the computer, the suit says. When Byrd demanded to know how Mendoza had obtained the photo, Mendoza allegedly said he was not supposed to disclose that information.
Byrd contacted local law enforcement agencies and investigators allegedly identified the spyware and learned that it was routinely installed on computers rented by Aaron's.
While investigators were at the Casper Aaron's store, the suit charges, they observed at least one other unauthorized photo of a consumer using an Aaron's machine.
The suit seeks class action status.