---
Everyone knows healthcare costs have been going up, but a new study adds some specifics – finding that healthcare costs for a typical American family of four have doubled in less than nine years and that employees are carrying a largerr share of the costs than in previous years.
The Milliman Medical Index finds the total cost of healthcare for a family of four in 2011 is $19,393, an increase of 7.3% over 2010.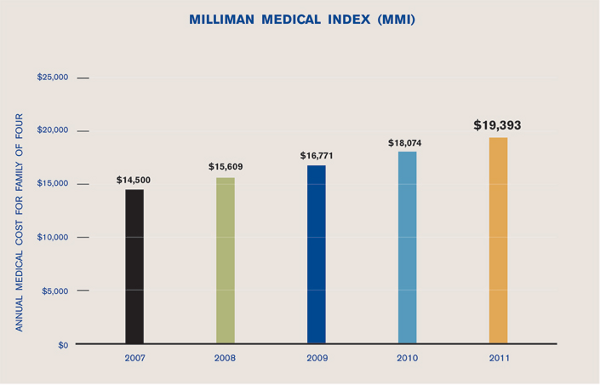 That's the lowest annual rate of increase in more than a decade but it is the highest increase in total dollars – $1,319 in 2011 – in the history of the study, which is conducted annually by Millman, Inc., a consulting and actuarial firm.
"In 2002, American families had healthcare costs of $9,235 and those costs have now doubled in fewer than nine years," said Lorraine Mayne, Milliman principal and consulting actuary. "As costs continue to grow – and even as the cost trend decelerates – the total cost of care for American families constitutes a larger and larger portion of the household budget."
Employees paying more
The study also found that American workers are paying a larger share of the cost. Of the $1,319 total cost increase, employers bore $641 while employees shouldered the rest – $403 in payroll contributions and $275 in additioanl cost sharing.
"As has been the case in four of the last five years, employees are paying a larger share of the increase than their employers," said Scott Weltz, consulting actuary at Millman. "That said, in absolute dollars, both employers and employees have shouldered approximately the same amount of additional costs since 2006, with employers absorbing $3,023 and employees absorbing $2,988.
The study also looked at geographic differences. Six of the 14 cities studied exceeded $20,000 in total costs while several others, including Phoenix, Atlanta and Seattle, had less than $19,000 in total costs for the typical family.
The cost differences result from variations in local practice patterns and from differing costs for healthcare goods and services, the Milliman report said.