---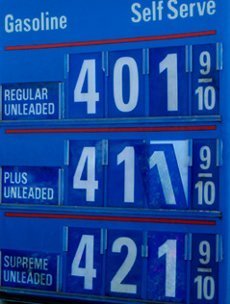 For motorists, the price of gas is at least moving in the right direction. The national average price of self-serve regular today is $3.886, down almost 10 cents from last Friday, according to AAA's Fuel Gauge Survey.
The price of diesel fuel is $4.080, down from $4.137 a gallon last week.
Gasoline prices have been dropping around two cents per day over the last three days as gasoline distributors adjust to lower crude oil prices. Oil has dropped from its lofty heights of early May, but remains around $100 a barrel. Many market analysts believe it will eventually settle in between $80 and $90 over the course of the summer.
Oil and gasoline supplies remain plentiful and there are enough concerns about sluggish economic growth that there should be no supply shortages in the weeks ahead. Even the rising Mississippi River is less of a concern.
"As the week progressed, concerns of potential refinery outages from flooding began to abate as all 11 refineries in the region continued to operate normally and reported that they did not anticipate disruptions from the flooding," said Avery Ash, AAA's Manager of Federal Relations.
The biggest drop in prices came in states with the highest prices. For example, Hawaii trimmed 20 cents a gallon off its price in the last seven days. Last Friday 17 states had average gas prices above $4 a gallon. This week only 10 states fall into that category.
The states with the most expensive gasoline today are:
Hawaii ($4.304)
Alaska ($4.280)
Connecticut ($4.226)
California ($4.158)
Illinois ($4.144)
Washington, DC ($4.128)
New York ($4.118)
West Virginia ($4.009)
Washington ($4.007)
Rhode Island ($4.010)
The states with the least expensive gasoline today are:
South Carolina ($3.661)
Wyoming ($3.679)
Mississippi ($3.706)
Alabama ($3.706)
Tennessee ($3.707)
Arizona ($3.713)
Missouri ($3.714)
Utah ($3.725)
Arkansas ($3.736)
Oklahoma ($3.752)