---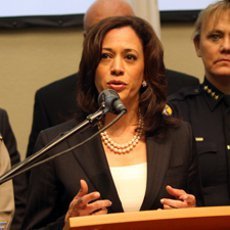 Since last fall's elections, there's been a big change in the news flowing out of state attorneys general offices. States where the AGs cast themselves as consumer crusaders and responded with ferocity and speed to consumer complaints suddenly seem more like Tea Party outposts, with the AGs suing to block the Affordable Care Act, pontificating on private morality and having their pictures taken with a wide assortment of law enforcement officers.
But in the nation's two largest states, it's business as usual, even though the players have changed.
In California, Attorney General Kamala Harris is launching a crackdown on mortgage fraud, scams and fraudulent lending practices. Harris, the former San Francisco District Attorney who succeeded Gov. Gerald Brown in the AG's office, says she is assembling a 25-person task force that will tackle mortgage fraud ranging from small operators who preyed on individuals and giant corporations that bundled and sold risky loans as safe investments.
Harris said the mortgage fraud that led to the housing crash is still echoing through California's economy, causing foreclosures, job loss and lagging tax revenues.
"We are looking at a situation of up to $640 billion in wealth having been lost because of this wave of foreclosures that has hit the state," Harris told theLos Angeles Times.
She and Los Angeles Mayor Antonio Villaraigosa were holding a press conference this afternoon to officially announce creation of the Mortgage Fraud Strike Force.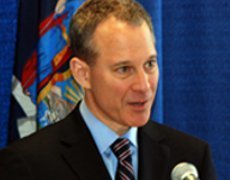 In New York, Attorney General Erich Schneiderman, occupying the office once held by fallen consumer hero Elliot Spitzer, is going after three large Wall Street banks as part of a wide-ranging probe of the mortgage crisis.
Not content to pursue corporate evil-doers Schneiderman today announced he is forming a "sweeping new initiative" to crack down on public corruption, a commodity of which there is no shortage in the Empire State.
"As stewards of the public trust, we are all responsible for doing our part to crack down on public corruption with every tool at our disposal. We need to be smarter, faster and more efficient than what current law allows," said Schneiderman. "That is why it is critical we close every loophole that exists in current law as part of comprehensive ethics legislation."
The new initiative will also expand the Attorney General's jurisdiction to the state's public authorities – agencies like the Port Authority of New York and New Jersey. Schneiderman called such agencies "a shadow government that operates out of the public eye and often without accountability."
New York and California are certainly not the only states where aggressive consumer protection is on the agenda.
Perhaps the "dean" of Attorneys General is West Virginia's Darrell McGraw, whose website slogan says it all: "Targeting consumer fraud by educating West Virginians." Hardly a week goes by that McGraw does not sue the stuffing out one or more scam artists, effectively running them out of the state.
Illinois, Iowa, Texas and Oregon also continue to regularly take on crooked contractors, loan sharks, deceptive web merchants and other evil-doers.