---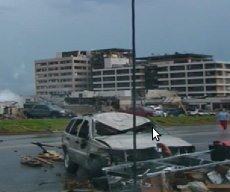 The lethal and destructive tornado that flattened a good part of Joplin, Mo., this week has brought out the best in people, who want to support relief efforts for the devastated community.  Meanwhile federal officials have declared a public health emergency in the state.
At the same time, it has also brought out the worst in people who want to exploit that good will with phony relief scams. Missouri Attorney General Chris Koster is warning consumers to be aware of these scams and to avoid them.
"Unfortunately, there are people who see opportunity in disaster," Koster said. "Scam artists will show up, pose as charities, and fraudulently solicit donations from people who are anxious to help those in need."
No on-the-spot donations
Koster advises potential donors to be cautious of anyone wanting on-the-spot donations or refusing to provide written, verifiable information about the charitable organization represented.  He also said to use a credit card or check for donating so that you have a record of the expense.
Anyone considering a donation to a relief effort can use Check-a-Charity on the Attorney General's website to make sure the charity uses donations wisely.  The site lists viable charities and provides information about how much of a charity's donated money actually goes to the cause as opposed to administrative expenses. 
Koster said those wishing to make donations to help the Joplin relief effort can feel safe doing so through established charitable organizations that are already working on the ground in Joplin such as: American Red Cross, Salvation Army and Southern Baptist Disaster Relief.
In the meantime, if you encounter a solicitation you believe to be a scam, Koster said he would like to hear about it. You can call his Hotline at 1-800-392-8222 or file a consumer complaint online at online.
Public health emergency
U.S Department of Health and Human Services Secretary Kathleen Sebelius has declared a public health emergency for Missouri in the aftermath of severe storms and tornadoes which struck the state Sunday night. The action will enable the Secretary to ensure that beneficiaries of the Medicare, Medicaid, and Children's Health Insurance Program (CHIP), continue to receive services during this emergency.
"Our hearts go out to the people of Joplin and the surrounding communities affected by last night's tornadoes," said Secretary Sebelius. "We are working closely with our state partners and community organizations to provide the support needed to respond to this disaster and in the ongoing flood recovery in the region."
 The public health emergency is declared under section 319 of the Public Health Service Act and is necessary so that HHS may waive or modify certain Medicare, Medicaid and CHIP requirements under section 1135 of the Social Security Act. The state can submit waiver requests through Centers for Medicare & Medicaid Services (CMS) Regional Office.
Under section 1135, HHS may permit affected health care facilities in Missouri to relax certain operating procedures temporarily so health care services can be delivered, such as allowing critical access hospitals to take more than the statutorily mandated limit of 25 patients and not count the expected longer lengths of stay for evacuated patients against the 96-hour average.
HHS agencies are working with state agencies and regional networks to respond to public health and medical needs of impacted communities. The HHS Assistant Secretary for Preparedness and Response is providing National Disaster Medical System assets to support the state and local health agencies in responding to the disaster.
A Disaster Mortuary Operational Response Assessment Team has deployed to Missouri to work with the state and local coroners and medical examiners in determining the full extent of federal mortuary resources that may be needed. A Disaster Mortuary Operational Response Team and a Family Assistance Center Team will provide assistance to coroners, medical examiners and families in identifying victims and returning remains to their loved ones. In addition, ASPR will provide a Disaster Portable Morgue Unit to support local mortuary operations.
An incident management team from the U.S. Food and Drug Administration (FDA) is working with state and local health departments to assist with inspections of FDA-regulated industries, such as food processing facilities and pharmaceutical and medical device manufacturers, impacted by the tornadoes to ensure the safety of FDA-regulated products.
An Incident Response Coordination Team will make sure federal public health and medical teams have what they need to assist the state at this critical time. This team is the "on the ground" command-and-control for federal public health and medical assets.
Information on steps to protect health immediately after a tornado or to prepare for disasters is available at http://www.phe.gov.